Former England footballer Emile Heskey has revealed that members of his family are still missing in the wake of Hurricane Irma.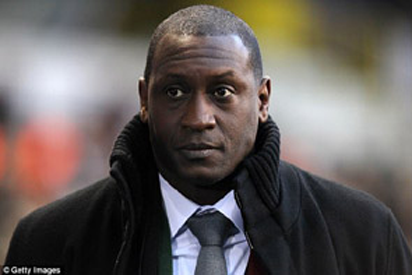 The ex-Liverpool striker said his relatives on the Caribbean island of Barbuda had been 'wiped out' by the Category 5 hurricane when it struck last Wednesday.
Heskey, 39, said that his parents now fear the worst as they have not been able to contact their relatives for almost a week.
The former footballer said his family, who live on neighbouring Antigua, were safe and sound, having escaped the worst of the hurricane.
'My mum can't get hold of them,' a distraught Heskey said according to the BBC.
'My mum and dad were fortunately lucky. They caught the tail end of it,' he continued.
'But my mum's family is from Barbuda and they were basically wiped out. Everything is gone.'
Hurricane Irma first made landfall on Barbuda, and island of some 1,600 residents, last Wednesday, with winds of up to 180 miles per hour. The island suffered 'absolute devastation,' with up to 30 per cent of properties demolished, Prime Minister Gaston Browne said earlier this week.
Residents were issued with a mandatory evacuation order last week amid fears of a second hit from Hurricane Jose, which later tracked north-west, and hundreds were taken to Antigua.
As of Wednesday morning, the death toll in the wake of Irma stood at more than 40 people.
Fifteen were killed on Saint Martin and neighbouring Saint Barthelemy, ten in Cuba, nine in the British Caribbean islands, four in the US Virgin Islands, two in Puerto Rico, one in Barbuda and one in Haiti.
Islanders across the Caribbean, have complained of a breakdown in law and order and widespread shortages of food, water and electricity.
The post My family in Barbuda have been 'wiped out'— Heskey appeared first on Vanguard News.