As fear grips criminals, corrupt policemen
By Emma Nnadozie, Crime Editor
Barely 48 hours after he was made the commissioner of Police, Lagos State, Acting Commissioner of Police, Imohimi Edgal, took up the gauntlet. Like a wounded lion, he went on the trail of criminal elements both in the force and in the society.
First cut
The first sign of his determination emerged immediately a non-governmental organisation, Network on Police Reform in Nigeria, NOPRIN, raised alarm over allegations of bribery and sexual harassment levelled against the officer in-charge of Anti-Kidnapping unit of the command and some of his men by relations of some of the suspects detained inside their cell at Surulere area of the state. The relations alleged that policemen in the unit demanded money for bail and some of them were sexually molested by the policemen on duty as they were making frantic efforts to secure bail for the suspects.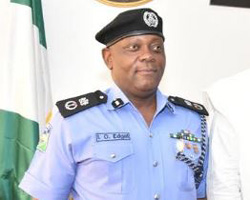 Without blinking an eyelid or toeing the line of some of his predecessors, who would have just swept such serious and scandalous issue under the carpet, the new police boss swung into action as he suspended the officer in-charge of the unit and detained all the policemen alleged to have taken part in the scandal. He further set up a panel comprising legal practitioners, human rights activists, policemen and journalists to investigate the allegations and report back to him within one week.
Town hall parley
Not done yet, Edgal immediately embarked on town hall meetings with all segments of the Lagos society where he was able to listen to them and proffer solutions that will help in not only nipping crime in the bud but, proactively, seeing that criminals are chased out from their den. This was after he rolled out operational guidelines aimed at securing the state with a firm promise to partner with relevant groups and tackle the menace of criminals in the state. He stated, unequivocally, that  his operational roadmap would be based on a police plan driven largely by community policing and partnership. Edgal said he would do that under the condition that such groups are registered and members are properly profiled adding that, they had no right to carry arms since they were not trained and authorized by law to do so.
He said: "The issue of functional partnership will be taken very serious as legal and operational guidelines for vigilante to be established must be put in place. The Vigilante is important but before any group can metamorphose, such group must report to the divisional police headquarters in that place where they will be registered, profiled and scrutinized.
"None of the members of any vigilante group would, however, be accepted for registration if he is found to have a criminal case or found to be a drunk or have any form of deviant behaviour. They will be documented and submitted to the Area Commander for final scrutiny. If the Area Commander confirms and I approve, then, they will be able to work closely with the police. None of them will be allowed to carry arms as they are not legalized to do so. They will be used primarily for intelligence networking and we will improve intelligence gathering. Henceforth, any intelligence in
formation that leads to arrest will be rewarded and identity of the informant will be protected."
Reads riot act to Area Commander, DPO's
To buttress his avowed resolve to cleanse what looks like the Augean stables, the police boss, unequivocally, stated that heads of department, area commanders and divisional police officers would, henceforth, be held accountable for the misconduct of their officers and men. There is no doubt that this heart-warming stance will ginger officers in positions of responsibility to provide quality leadership and closely monitor their staff. Lagosians are convinced that the seeming premium being placed by the CP on whipping erring police personnel into line and restoring professionalism among officers and men in the state shows that he recognises the need to quickly get down to brass tacks.
War against cultism
As the Deputy Commissioner of police in-charge of operations in the state before his elevation as Acting Commissioner, Edgal easily recognized that the issue of cultism which has been ravaging the state deserved special attention hence, he hammered on this while meeting with various opinion leaders during the town hall meetings. He identified cultism  as one of the major security challenges bedevilling the state, at the moment, stating that, he was determined to put an end to cult related clashes within  the state.   He  warned parents to caution their wards who were members of various cult groups to stay out of violence as he was prepared to deal ruthlessly with any person found to be a cultist in the state. He disclosed that cultists would now be treated as armed robbers whenever they are arrested by the police, stating that he has ordered policemen to shoot at any cultist in possession of a fire arm.
He also explained that he discovered during interactions with stakeholders during the ongoing security Town Hall Meetings across the state that most areas usually don't experience violent crimes such as armed robberies and kidnappings, but they suffer from cult- related activities, which he said had claimed several lives.  He disclosed further that the era where cultists are treated with kid gloves when arrested is over, adding that he would deal with anyone caught with fire arms or any other dangerous weapon.
Task parents
According to him; "cultism is a very serious issue which we must tackle in Lagos State and everyone must be involved.      I am fully out to tackle it head-on and I urge parents to warn their children to stay out of cultism because I am coming for them. The era where cultists apprehended with fire arms are treated with kid gloves is over.    I have ordered my men to shoot at any cultist who is seen with a fire arm.    This is not a joke; parents must take this message home to their children and warn them to desist from all cult- related activities henceforth.    I have also strengthened the Anti-Cultism Department of the Lagos State Police Command and I have directed them to move all out to track all cultists operating within the state."
Ikorodu as a metaphor
Beaming his searchlight at Ikorodu where, recently, a deadly cult group and ritual gang named Badoo was terrorizing and killing people with ease, the police boss who, incidentally, was instrumental to the routing and putting final nail on the criminal group, re-assured residents of the area that the ugly past was gone forever. He disclosed that the Inspector-General of Police, Ibrahim Idris, has promised to set up two more Area Command Headquarters and this will put an end to insecurity in the area. He further told the audience made up of all the traditional rulers in Ikorodu and its adjoining communities, Chiefs, Baales, politicians, residents and security stakeholders within the community, that he was prepared to return Ikorodu to its old days, where residents would  sleep with their eyes closed.
Community policing to the rescue 
Edgal also disclosed that he has ordered all Divisional Police Officers and Area Commanders within the Lagos Command to implement Community Policing within their jurisdiction and ensure that the people gain the trust and confidence of the police within area.    He stated further that, a Police Lab located in Alausa Ikeja, equipped with sophisticated communication gadgets, has been set-up for intelligence gathering and appealed to residents of Ikorodu, to take advantage of the platform, which he said operates 24-hours daily, with 10 different phone lines. He therefore enjoined the residents of the state to relate with the police on that platform assuring them that the police would not betray that trust as the police act swiftly on information gathered from members of the public.
Furthermore, he declared his readiness to work with other security agencies to ensure security of lives and property in the state.
So far, the new CP's determination to tackle criminality in the state has sent dangerous signals to criminals and corrupt policemen and the sing-song now is that there is fire on the mountain. Most revealing is the fact that the divisional police officers, especially in remote areas of the state, seem to be getting the attention of the workaholic new police boss based on his unannounced patrol of police stations, especially at nights, with a view to ascertaining the preparedness of his men to toe his line.
The post New Lagos police boss, Edgal Imohimi, spits fire appeared first on Vanguard News.