• Says Bayelsa will not remain the same 'when we are through'
Governor Seriake Dickson of Bayelsa State, in this interview, speaks on what he describes as the life transforming projects embarked upon by his administration.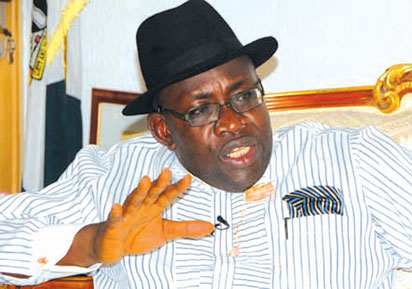 Which projects are now scheduled for commissioning?
Well, our government is about mega life-changing projects. In the area of education, we have only commissioned the Ijaw National Academy. But there are very many schools we have built that are ready for commissioning. I believe the results should speak for us but given the political terrain in which we operate I think we need to showcase some of them. In the area of education, additional five model secondary schools will be opened. These are areas where there were no boarding schools before I took over in 2012. That is why you should not have been surprised if you had militants, criminality, drug addicts, and so on.
We have not even talked about the constituency boarding secondary schools that are on-going with new facilities comparable to what you see in tertiary institutions.
By all analysis, our state has the best public schools in this country and we are not done yet. So I am not surprised that exam results are moving steadily up, the performance of pupils is moving quite remarkably. That is an indicator of the investment we are making.
Education in all these state boarding schools is free. The uniforms are provided by us, the books by us, we even feed them three times a day.
We also have the best health care facilities in the state. And even in this recession, we are deepening our investment in that area and pursuing our infrastructural development program. The airport project is going on, mega roads are going on, we have concluded sand filling beyond Aleibiri; you can actually get to Aleibiri with Hilux. This is the Bayelsa we came to change.
How can the investment in education, this legacy be sustained in subsequent administrations? 
I am quite satisfied already with where we are although this is not where we want to be. We want Bayelsa to be the number one in education and we are working hard to lay that infrastructure. When we took over Bayelsa, our WAEC and NECO rating for 2012 was over 20. If we rated any better, it was considered a fluke or an accident not a product of conscious investment.   But from that position, we moved to number 6 or 7 last year I think and now this year we are number 5. That is why we directed the compulsory summer camping program for the SS3 students. Our thinking is this, if we camp them together as we did for between 4-6 weeks and they are not out there playing and we bring in the best teachers in all areas to coach them, the results should show. Our expectation is that with this, by next year when they take the competitive national exams, Bayelsa will improve more. Our target is to be number one and we can make it because it is a product of conscious effort and nurturing.
Sustainability is the reason we created the education development trust fund.   I think the fund has so far received close to N500m and that is commendable. That fund with the law that has established it will sustain this policy beyond this administration. That is why people should be interested in the policies of people who want to lead.
What is the government doing as regards teachers welfare as some are yet to receive their 18% minimum wage arrears as well as your promise of a million naira to the St. Jude's basketball team.
I have already approved the release of the N1m that was promised to St. Jude's students as the best basketballers in Nigeria.I want them to improve and become international champions. On the teacher's welfare, no one is more concerned than this government. But there are problems in that area, fraudulent activities in terms of payroll, people who do not go to work, indiscipline and all of that. We are going to address all of these. And all the issues about teacher's welfare will be attended to. In fact, from next year teachers will begin to attend the teachers training institute for training and retraining. We are not just building primary and secondary schools; we are preparing students who will graduate from these schools to go to world class tertiary institutions. We are funding the Niger Delta University (NDU) better now and addressing their challenges of capacity building and infrastructure and helping them to improve on their programs. They got accreditation for all their courses for the first time and I have charged them not to stop at that. They should get more courses. We are not paying any staff in the African University. The university is autonomous; they recruit the staff and students pay fees. There are some courses we want to encourage Bayelsans to study, like nursing. We want to be like the Philippines that trains nurses and export them all over the world. We want to promote agriculture and entrepreneurship and not just certificate qualifications. We will select young Bayelsans, and give them scholarships. We pay their fees and they go to the university. Between now and the end of my tenure, the landscape will have so changed that people who were not here before will be shocked when they come to Bayelsa.
When can the students' loans board be constituted for students to access loans to pursue their academic dreams?   
Very soon I will constitute that board and some funds will be made available. I give 5% of the IGR to education trust fund every month, 5% to health insurance and I am thinking of putting some amount to the students' higher education loans board.
How soon will the state government conduct local government elections?
Since we took over, no deduction has been made in respect of funds coming to councils. I do not even know how much they get. In this state we have local government autonomy. We didn't dissolve the local government system we met. We wanted to conduct elections showing we respect the autonomy of councils especially in the area of their finances. We constantly encourage them to be transparent, hold transparency briefings, and inform their people about their income and expenditure, to judiciously utilize their resources and we give them policy guidelines. Because of the recession, states are finding it difficult to muster the resources to conduct local council elections. Local council elections run into millions so it is a very expensive exercise. We are told the country has gone out of recession or is trying to come out of recession. We haven't seen or felt it yet but we believe and pray that is so. If our revenue improves by next year, we will love to have local council elections.
About the health insurance scheme, people are not sure how much is being deducted from their salaries, and some consider the deductions too many coming in the wake of the education trust fund deductions.
I thought we are through with this complaint. The last I heard is that the health insurance had close to N500m in the account. I was just telling the executive secretary that at the next transparency briefing they will all come to render their account. I have directed them to set up internet platforms where anybody can log in and see the way they are managing the funds, both the health and education trust funds. These are laudable programs. The business of health care is too important to be left to an individual particularly when there is a challenge.
What efforts are there to assist the staff of the local governments in terms of teachers' welfare and the backlog of salaries?
It is a very pathetic situation. It is not just in Bayelsa but across the country. It is a fall-out of the recession. In my first tenure, you did not hear of such challenges until the country went into recession. Every money we get comes from the federal government apart from the IGR which when I started was about N60m but which we managed to raise to N500m on the average. Even if we produce the oil, it is not owned or managed by us. The number of these people you are saying are local government workers is actually few. 80% are workers in name only because they had appointment letters and receive salaries and not because they go to work. When the economy was robust, their wage-bill was about N160m. Now their allocation is about N90m, how do you expect them to meet up? That is why I tell people to stop payroll fraud in the local government areas. The responsibility lies with the stakeholders. I want to address most of these reforms before my term runs out. We have been compiling data. Before 2012, they were not keeping records in the state. The union leaders should please listen to me. We will not be intimidated; we will do what is right.
What is the state of your government's effort towards the renovation of the Samson Siasia Sports Stadium since it started in 2012?
I received assurances from the contractors just last week because we are as concerned as everybody else. We are paying them money that is left to enable them put that place to use. We are looking beyond the Samson Siasia Stadium. We are looking at focusing on the sports academy by next year.
How do you react to those who are accusing you of taking on too many projects?
It is a compliment if they say we are doing too much because I came angry at the state of our underdevelopment. Whoever is governor must leave a positive impact.
Could you please throw more light on the effort your administration is putting into the 'Light up Bayelsa' project.
Now a lot of communities around Yenagoa are connected to the national grid, and we still want to link up so many others. Amassoma for example is linked to the national grid. We had to do electrification in Sampou. Sagbama to Ofoni communities are all electrified, connected to the national grid. We want to do more and so we are working with Agip. Right now they are erecting a number of poles going to Nembe from Imiringi gas turbine. This could have been done several decades ago but we want to accomplish it if possible before the end of December. We are working hard. It may not be with the speed we want because of funding constraints but operation light up Bayelsa is on course.
Very soon we will unveil our collaboration with the IOCs to generate up to 50mws of power between now and next year so that we can call on the investing public and manufacturers to come to Bayelsa. We also have plans to power our airport.
What is your government doing to assist BSSB scholars abroad?
Because of the down turn in the economy, even states with more buoyant economies could not sustain foreign scholarships for their students.   But we managed to do so with our Lincoln University scholars and others in Ghana and some in the UK. We have shifted emphasis to local scholarships. Things are very tight but we have not forgotten the beneficiaries.
Any plans to celebrate the 21st anniversary of the creation of the state?
There are no elaborate plans.   Instead of throwing money around we will use that money to build one primary school or it will help to complete one secondary school or pay for the education of our children. That is one legacy I care about.   The days of frivolities have ended and we are going to do our best. We still have a long way to go. We have two more years to go and in spite of the recession, we will try our best to conclude our programs and policies. With the economy we cannot take anything new except minor things. And we will deliver a new and better Bayelsa.
The post No signs recession has ended – Gov. Dickson appeared first on Vanguard News.