Peace and normalcy have been restored at the Malam Aminu Kano Teaching Hospital (AKTH) following the resumption of work by resident doctors.
The National Association of Resident Doctors (NARD) suspended their 10-day nationwide strike on Thursday evening and asked its members to resume work on Friday.
A check by newsmen at the hospital on Friday showed that patients were waiting for consultation at all the departments and wards in the health facility.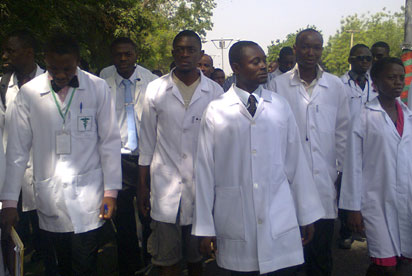 The Out Patients Department, which was shut down since Sept. 4, the day the strike began, was opened for business.
Some of the patients told newsmen in separate interviews that they were happy with resolution of industrial dispute between NARD and the Federal Government.
Malam Umar Abdullahi, one of the patients, said that he had an appointment at the hospital on the day the strike started.
Abdullahi said he had been managing his health during the strike because all his medical records were at the hospital.
However, he appealed to the federal government to find a lasting solution to regular strikes in the health sector.
"Health is a very serious issue that should not be compromised or toyed with; so, the government should please fulfil its pledges to the doctors' demands to prevent such actions."
Mrs Maryam Mustapha, who brought her son to the hospital, described the timing of the strike as wrong because of the prevalence of ailments like malaria and other haemorrhagic fevers.
"I am glad that the strike did not last long because only God knows how people could have survived, as the private hospitals are also congested with patients and expensive," she said.
The resident doctors made a six-point demand revolving around improved infrastructure, facilities and condition of service.
The Minister of Health, Prof. Isaac Adewole, had confirmed government readiness to implement the demands forthwith to salvage the health sector.
NAN
The post Normalcy returns to AKTH as doctors resume work appeared first on Vanguard News.