Salisu Yusuf, Assistant Coach of the Super Eagles has opted to make changes ahead of their must win clash against the Black Stars of Ghana in the WAFU Cup of Nations.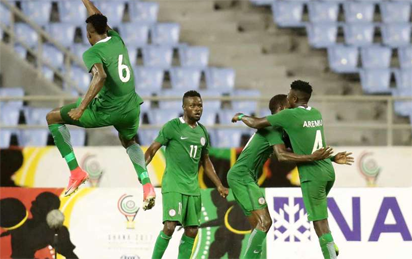 The Super Eagles lock horns with Ghana's Black Stars in a crucial last group game at the Cape Coast Stadium.
A statement by the Nigeria Football Federation (NFF) quoted Yusuf as saying that he would certainly make changes in the Super Eagles' line –up as the three –time African champions look forward to the must-win encounter.
The fierce rivals are to clash at the Cape Coast Stadium starting from 6 p.m. (7 p.m. Nigeria time) with contrasting pictures in their heads before kick–off.
Hosts Ghana are comfortable and already have a ticket into the semi finals with six points from their first two matches in the group phase.
The Eagles, on the other hand, have only two points and must win to be sure of a place in the last four.
Ghana's six points have come from wins over Guinea and Mali, who both drew with Nigeria and thus have a point each.
But a win for either team (Guinea/Mali) in their game, that will run simultaneously at the Ndoum Stadium, will knock the Super Eagles out of the running if they fail to defeat Ghana.
"It is a must-win game; we are certainly aware of that. Definitely, we will look at making a few changes because this is one match we must show character and efficiency at the rear, and middle and the fore.
"Not only must we avoid defeat; we must win to make progress in the championship. That demands absolute seriousness and diligence and only the best legs will do," Yusuf said.
The Eagles failed to fly in both group phase games so far, after showing ability in a 2-0 win over Sierra Leone the day after arriving in Ghana for the tournament.
Apart from the pressure on the African Nations Championship – bound Super Eagles to achieve victory (Ghana failed to qualify for CHAN after losing to Burkina Faso right in Kumasi after a 2-2 draw in Ouagadougou).
Ghana's commitment to pacifying home fans for the 2-2 draw suffered in the hands of Burkina Faso, in their CAN qualifying match, will make the 66 –year old rivalry between both nations an even more ferocious affair in Cape Coast.
In the early days of the rivalry, Nigeria won more matches in the Jalco Cup, but Ghana had the upper hand in the Nkrumah Cup and Zik Cup encounters that followed.
Both trophies were named after major pan-African figures Osagyefo Kwame Nkrumah and Dr. Nnamdi Azikiwe.
Among the most memorable encounters between Nigeria and Ghana in those 66 years were a 2-2 draw in a 1962 World Cup qualifying match in Lagos in September 1960 (Ghana had won the first leg 4-1 in Accra).
Also a 2-2 draw in an Africa Cup of Nations qualifier in Accra in April 1961 (the first leg in Lagos ended 0-0).
Nigeria won 2-1 in a 1970 World Cup qualifier in Ibadan in May 1969 (the return in Accra ended 1-1); and another 4-2 win for Nigeria in the 2nd All-Africa Games football tournament opener in Lagos in January 1973.
A 3-2 win for Ghana in a World Cup qualifier in Lagos in February 1973 (match was abandoned and later awarded 2-0 to Ghana).
The two nations drew 1-1 in a 1978 Africa Cup of Nations match in Accra while Nigeria won 2-1 in a 1984 Olympics qualifier in Accra in October 1983.
Similarly Nigeria secured a 2-1 win f in a 1984 Cup of Nations match in Bouake while took the victory in a 1-0 win in a 1992 Cup of Nations qualifier in Accra in September 1990.
Also, a 3-0 win for Nigeria in a 2002 World Cup qualifier in Port Harcourt in July 2001 qualified Nigeria for the Korea/Japan finals.
The post Yusuf opts to ring changes as Eagles face Black Stars appeared first on Vanguard News.