By Emeka Obasi
Zambia shook the globe in far away Kwangju, South Korea when they pounded Italy 4-0 at the Seoul'88 Olympic Games. All four goals were scored by the Bwalyas. Kalusha, one hitherto unknown youngster from Cercles Brugges, Belgium, turned superstar overnight for the hat-trick.
Led by Sam Ndhlovu, the Zambians paraded  a crowd of unknown names playing for remote teams. Debbie Makinka  (Profund Warriors ),Keeper Efford Chabala  (Mufulira Wanderers ), Wisdom Chansa  (Power Dynamos),Beston Chambeshi (Nkana Red Devils), Webby Chikabala  (Nchanga Rangers) and Edmon Mumba (Mutondo Stars). They sounded like fairy tale.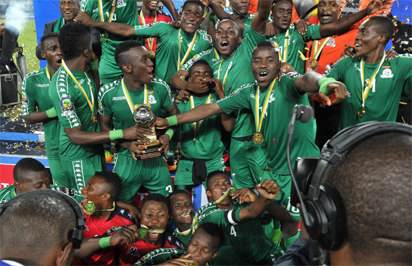 About five players came from Europe. Johnson Bwalya (FC Scion, Switzerland), Charles Musonda  (Anderlecht, Belgium) and Stone Nyirenda (Roselare, Belgium ) had professional experience which did not mean much to the Italians. Kalusha tore them apart and after  scoring in all of of Zambia's group games, ended the tournament as joint second highest scorer with six goals, one less than Golden Boot winner, Romario of Brazil.
The Eagles were also in the same competition and could only score one goal through Rashidi Yekini while Zambia netted 10 goals. This was a Nigerian team, captained by Sylvanus Okpala that included such stars as Samson Siaisia, Austin Eguavoen, Chidi Nwanu, Emeka Ezeugo and Sam Okwaraji.
Zambia left Seoul'88 as the fifth best team following their quarter-finals elimination by Germany. Nigeria finished 15th out of 16 teams after losing all three group matches. Zambia drew 2-2 with Iraq, battered Italy 4-0, trounced Guatemala 4-0 before slumping 4-0 to Germany. They were proud to say that Kalusha scored more goals than Jurgen Klinsmann.
This is one quality the Chipolopolo have, you underrate them only to blame yourself when it becomes too late. They did it to Italy in 1988. The same Italian team that had eliminated Holland, Portugal, East Germany and Iceland in the European qualifiers. It is never too late for upset.
On April 27, 1993, the Chipolopolo were lost in an air crash off the Gabonese coast. Kalusha was waiting to join in Senegal after the squad had demolished Mauritius 4-0 at away. Makinka scored three goals. Chabala, Chansa, John Soko, Robert Watiyakeni, all perished.
Zambia rose from the dead and the Eagles will never forget what happened at the Tunisia'94 Nations Cup. A new crop of  players emerged to join some of those who missed the fatal flight or were overlooked. Kalusha, Musonda and Johnson Bwalya emboldened keeper James Phiri,Harrison Chongo, Elijah Litana, Zeddy Saileti, Kenneth Malitoli, Evans Sakala, Aggrey Chiyangi, Joel  Bwalya and Martin Mwamba.
After a barren draw with Sierra Leone, the Chipolopolo beat Cote D'Ivoire 1-0 to qualify for the quarter-finals. Nigeria later faced the Ivorians in the semis and sweated to qualify for the grand finale through penalties after a 2-2 stalemate.
In the grand finale, Litana stunned the Eagles with a 4th minute opener. Coach Clemens Westerhof tricked the Chipolopolo. Emmanuel Amuneke was left on the bench from the first round. The left Winger debuted on the last day. The foes did not reckon with him and they paid dearly for it. He scored twice to give Nigeria the cup.
This is the story of Zambia and the Eagles must not forget history. As KK Eleven, they humiliated Nigeria 5-1 in 1973. That made it impossible for Nigeria to qualify for the Egypt '74 Nations Cup. General Gowon disbanded the team. Keeper Joe Erico is still very much around. He is in a position to tell this tale better.
As KK Eleven, Zambia disgraced defending champions, Nigeria at the Libya'82 Nations Cup. Both teams were in the same group with Algeria, just like the setting now. Keeper Peter Fregene is yet to explain to compatriots why  he deliberately played the ball into his net just one minute after the opponents went up 2-0.
The first time a Zambian soccer side won an African title, Nigeria paid for it. Power Dynamos, led by Wisdom Chansa defeated defending Champions BCC Lions to lift the Winners Cup in 1991 under the watchful eyes of Frederick Chiluba, the trade unionist who ousted Kenneth Kaunda. The previous year, Nkana were beaten at the same Independence Stadium, Lusaka by JSK of Algeria in the CAF Champions  League grand finale. Kaunda was in charge.
BCC had won the first leg 3-2 in Lagos and had every reason to retain the trophy. The hosts normally played on Sundays but because the Cement Boys had to catch a Ghana Airways flight from Harare, Zimbabwe to Accra on Sunday, the Zambians allowed the game to hold on Saturday.
Power Dynamos conceded an own goal in the 27th minute through Webby Chilufya. I watched the match, sitting behind President Chiluba. He was jolted.  The Nigerian High Commissioner to Zambia, Igwe Lawrence Agubuzu and his wife were excited. Glee turned to doom when central defender, Robert Watiyakeni, equalised. The duel ended 3-1, no thanks to Wedson Nyirenda who scored the decider.
The same Nyirenda is coach of the Chipolopolo coming to Uyo for a World Cup ticket. His brother,Stone Nyirenda, was part of the team that ridiculed Italy. The Zambian manager knows Nigeria inside out. In Lusaka, 26 years ago he wanted me to  help him join Udoji United. When the Southern Africans lost 2-1 at home, this Nyirenda had barely settled down. Now he is charged.
I must warn the Eagles that it is no easy walk to Russia. According to Kenya politician, Odinga Odinga, it is not yet uhuru. I am sure the players remember Chinua Achebe. He was the Founding Editor of  African Writers Series. THINGS FALL APART, authored by him,is  title number One.
Number Four is Kaunda's ZAMBIA SHALL BE FREE. Yes, they were freed by Britain. Eagles must not grant Chipolopolo freedom in football. They must not go to Russia 2018. Let their mundial debut be postponed until they get lucky with other nations, not Nigeria. In that sense, I dare say, Zambia shall not be free. Let their things fall apart.
The post Zambia shall not be free appeared first on Vanguard News.