By Dirisu Yakubu
ABUJA-The Peoples Democratic Party (PDP) has taken another swipe at the ruling All Progressives Congress (APC) saying the party can only retain power in 2019 by rigging the votes of the electorate.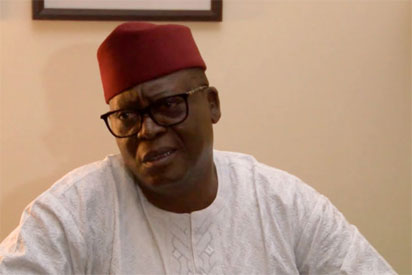 The party also berated the conduct of elections in the more than two years of President Muhammadu Buhari administration, stressing that the inconclusive nature of some of the elections portend danger for 2019.
In an exclusive chat with Vanguard, National Publicity Secretary of the party, Prince Dayo Adeyeye urged Nigerians to be vigilant, stating that on the bases of performance, the APC will not retain power in the next general election.
"The only way they can retain power in 2019 is by rigging and that is why we are enjoining Nigerians to be on their guard.
" We have seen that most of the elections conducted by the Buhari administration were inconclusive or marked with lots of irregularities," he said, adding that come 2019, there are reasons to believe the elections would not be credible.
"There is no assurance that these people will deliver free and fair elections and that may sound the death knell for our democracy," he warned.
On the recent accolades poured on former President, Goodluck Jonathan by the immediate past Chairman of the Independent National Electoral Commission (INEC), Professor Attahiru Jega, Adeyeye said Jonathan's decision to concede defeat in 2015 helped in deepening democracy in the country.
Professor Jega had in a recent interview with Jamie Hitchen, a policy researcher at African Research Institute commendation Jonathan for giving him a free hand in running the affairs of commission.
Jega was quoted as saying in the said interview that "The administration of Goodluck Jonathan, president from 2010 to 2015, never gave any reason to suspect that there was a deliberate and wilful attempt to emasculate the funding of INEC.
"For most of the time during our tenure, President Jonathan tried not to personally interfere with the Commission's work. Only in the run-up to the 2015 election did his government and ruling political party seek to interfere with the decision of INEC to use electronic card readers.
"We were able to remind them that they had supported the idea and funded it. Overall, I think that President Jonathan meant well for democracy in our country, a view strengthened by the gracious way he conceded electoral defeat in 2015."
The post 2019: APC can only retain power by rigging- Adeyeye appeared first on Vanguard News.