Ibadan—THE Ekarun Olubadan of Ibadan land, Oba Amidu Ajibade Salaudeen, yesterday, said that it is wrong to say that Governor,  Abiola Ajimobi of Oyo State, approved chieftaincy reforms and elevated eleven high chiefs and some Baales to the position of kings for selfish reasons as it was not the governor's idea but a demand by the high chiefs.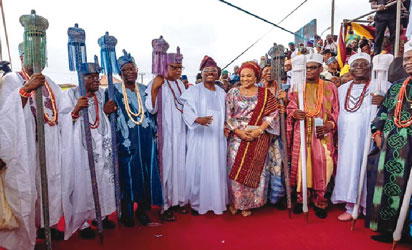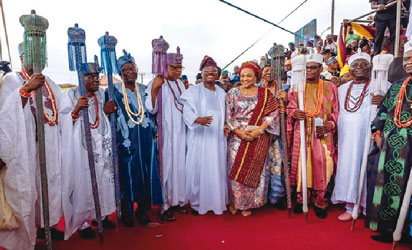 Oba Salaudeen explained that the high chiefs went to the governor and continued to harass him because it is their right and they had to fight for it, adding that they had to involve Ibadan elders when the governor showed reluctance in granting their requests.
"I want to inform people today that the Oyo State chieftaincy reform and the elevation of high chiefs and Baales in Ibadan, contrary to belief, are not the governor's idea. We asked for it. Ajimobi didn't plan it. He did not come for us, rather, we went to him with our requests and he told us to write him officially. We did, yet he did nothing.
"So we reported him to the Central Council for Ibadan Indigenes and the Ibadan Elders Forum after which we were told to write again and we even held a meeting at Ambassador Saanu's house with our father, the Olubadan in attendance and there was no misunderstanding during the meeting," Oba Salaudeen said.
The traditional ruler, who was speaking during a reception held for the four elevated traditional rulers from Akinyele Local Government by the Chairmen of Akinyele Local Government, Akinyele South Local Council Development Area and Akinyele East Local Council Development Area at the council secretariat at Moniya in Ibadan stated that it was a long process with the high chiefs harassing the governor frequently.
According to him, when the governor set up a seven-man committee to look into the matter, the high chiefs raised a protest that there were few Ibadan indigenes and the governor told them to look for four others, adding that the CCII selected the four other members of the panel.
He added further that it is indeed a fallacy and unfair to say the governor did the elevation for political purposes, adding that those peddling the rumour are just using the matter for political and selfish interests.
"I also want to add that our father, the Imperial Majesty of Ibadan land is a gentleman and a father and he is not responsible for the various statements attributed to him. We know those behind it but we will not join them in mudslinging. We are all loyal to our father and that is how it will remain," Oba Salaudeen stated, adding that, "we all get our salaries as at when due from the governor and it is a lie that any high chief is not paid his due."
The post 21 Ibadan Obas: It's not Ajimobi's idea, High Chiefs asked for it – Oba Salaudeen appeared first on Vanguard News.