A GOLD fish, they say, has no hiding place. Within the context of the socio-economic and geo-political firmament of Nigeria, Chief Emeka Anyaoku, the venerable former Secretary-General of the Commonwealth of Nations, exemplifies this saying.
A shining light too conspicuous to miss in any gathering, he has remained a much sought-after personality whose presence usually adds value and relevance to important occasions.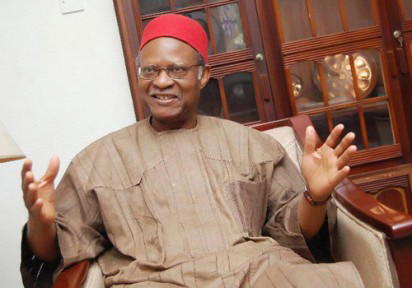 So, when dignitaries from different parts of the country assembled last week at the Nnamdi Azikiwe University, Awka, Anambra State, for the launch of the Emeka Anyaoku Institute for International Studies and Diplomacy, EAIISD, it was only inevitable that the erudite diplomat would be the man of the moment. And indeed, the occasion turned out to be an appropriate opportunity to celebrate and appreciate him for his outstanding diplomatic and leadership services to his fatherland.
Among the eminent Nigerians who gathered to honour him were former Head of State, General Abdulsalam Abubakar; former President Goodluck Jonathan represented by former Minister of Power, Prof Chinedu Nebo; former Chief of General Staff, retired Commodore Ebitu Ukiwe; former Chief of Army Staff, Lieutenant General Theophilus Danjuma and former Minister of External Affairs, General Ike Nwachukwu. Also present were former Minister of Education, Oby Ezekwesili; President-General, Ohanaeze Ndigbo, Dr John Nnia Nwodo; former Governor Dame Virgie Etiaba, traditional rulers, members of the academia and several others.
For a man who has devoted 50 years of his working life promoting democracy and world peace by helping resolve issues among nations, including those bordering on climate change and terrorism, Chief Anyaoku was profusely praised by most of the dignitaries present as eminently deserving of the honour accorded him by the authorities of the Nnamdi Azikiwe University, Awka.
The Vice-Chancellor of the University, Prof Joseph Ahaneku, also informed the gathering that naming the institute after Chief Anyaoku marked a quantum leap in the discharge of the university's core mandate of teaching, research and learning for prospective diplomats as well as providing a platform for public discourse towards community development.
We call on Dr Anyaoku to make good his pledge to leverage on his goodwill and wealth of experience to support the institute to become a reference point in its core disciplines: diplomacy and the promotion of international peace. The University needs all the support it can get from all well-meaning Nigerians to make the institute resource-rich.
We commend the University for choosing to do this honour to Anyaoku while he is still alive. It is particularly gratifying because Anyaoku remains one of the few high-achieving, detribalised leaders with unblemished personal service record who stands as a model for the youth and the society at large to emulate.
The post Anyaoku: Honour for an iconic diplomat appeared first on Vanguard News.