By Ochereome Nnanna
THE excesses of the leader of the proscribed Indigenous Peoples of Biafra, IPOB, Mazi Nnamdi Kanu, needed to be put in check, no doubt. But I think the Army totally mismanaged it and put those who signed his sureties at risk.
In April this year, Justice Binta Murtala Nyako of the Abuja High Court brought relief to the tensed atmosphere wrought by the continued illegal detention of Kanu and granted him bail on rather draconian conditions. Apart from being barred from granting interviews, addressing rallies and being in a group of more than ten people at any time, he was required to procure three sureties for the sum of N100 million each, one of whom must be a Jewish religious leader (Kanu being a self-acclaimed adherent of the Jewish religion).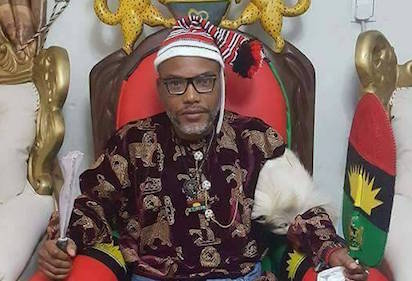 Contrary to expectations, the sureties stepped forward. One of them was a notable politician, Senator Enyinnaya Abaribe, who represents Abia South Senatorial Zone which covers Aba, the hotbed of the Biafran agitation and the wellspring of Igbo nationalism. Apart from possible political opportunism, I understood Abaribe's readiness to accept the risky challenge of standing surety for Kanu. He must have felt duty-bound to obey his constituents' wishes. I think Abaribe was also convinced Kanu would not jump bail.
Yes indeed, Kanu violated all the conditions attached to his bail, except the one that concerned Abaribe and the other sureties: jumping bail. On Sunday, 10th September 2017, the Army which had launched its "show of force" under the Operation Python Dance II, had the first brush with Kanu's loyalists in his home at Afaraukwu, Umuahia. We saw video footages of youths armed with stones and some carrying machetes confronting the armed-to-the-teeth Army, which was circling the area in troops-filled military trucks and tanks. It was obvious that something drastic was going to happen to the Biafra agitators.
Later that day, Kanu emerged from his house in another video. He led newsmen round his compound where, according to him, the military "invaders clashed with my men". Two days later, both the conventional and social media reported the full-scale invasion of Kanu's home and its destruction. Following that, the Governor of Abia State, Dr. Okezie Ikpeazu, imposed a dusk-to-dawn curfew, obviously to prevent the possible mass movement of Kanu's supporters to the scene and the obvious bloody consequences. It was after this final push on Kanu's home by the military that Kanu was never seen or heard from again till today.
Two theories are making the rounds as to what might have happened to Kanu after the 12th September 2017 military action around his home. Former Abia State governor, Orji Uzor Kalu, who is now a busybody self-appointed spokesman for the All Progressives Congress, APC, Federal Government, alleged that Kanu had escaped to the United Kingdom through Malaysia.
This line of thought does not stand up to scrutiny. Nnamdi Kanu is not the kind of person who would be silent if he were a free man. Even if he chose not to talk, his presence would be detected wherever he is. Till now, there isn't even a rumour of his presence anywhere. If he was in the U.K, we would have known. Kanu would have spoken. Being a British citizen, he would have no reason to hide; and he could not successfully hide from the eyes of the British authorities.
The military, with all its might and the full complements (assumedly) of its intelligence arm, had surrounded and watched Kanu's home for, at least two days. There was no way that he could have escaped from the watchful eyes of the mighty Nigerian Army, given the gravity of the offence for which the military mobilisation was ordered by the Federal Government. If, however, Kanu was still able to escape the Army's siege, it does not speak well for the efficiency of the Army. Given the sort of Army I believe we have, I am convinced that no one can escape them when they surround such a person.
I do not believe that the Army merely went to Afaraukwu, circled Kanu's home for some days and left him free to escape. Then, what did they go there to do? The logic or commonsense does not stand up at all.
No one in his right senses would fault the move made by the Federal Government to rein in Kanu's ballooning agitation, which he was already capitalising on to threaten elections in the South East. Though unarmed, the way Kanu led his followers to brush aside fully-armed Mobile Police patrols sent to prevent him from continuing his city-to-city mobilisations against the terms of his bail deeply worried all concerned Nigerians, especially peace-loving Igbo people.
His formation of the Biafra Security Service, BSS, which mounted a guard of honour for himas he stepped out of his house, took this matter over the roof. How many more steps remained before Kanu would take up arms or declare a separate republic all over again, thus plunging the nation to another civil war? No sane government would have waited to see if it would happen. Even an Igbo as President of Nigeria, would act accordingly.
The path taken by the Army foiled the bail obligations imposed on Senator Abaribe and company to produce Kanu in court. They should have been more patient and methodical, ensuring they never let their quarry out of their sight for a second. The talks between Kanu, Igbo leaders and South East Governors towards persuading him to drop Biafra for restructuring appeared to be heading somewhere, but it seemed the authorities wanted to end Kanu's right to negotiate anything.
It is my considered view that if the Army had been more patient and methodical, they would have been able to isolate and pin down Kanu to enable Abaribe and other sureties to produce him in court for his trial. If the Army had not intervened, then of course, the sureties would be bound by law to pay the resultant penalties if they failed to produce Kanu.
I do not fault Justice Nyako's insistence that Abaribe and company must produce Kanu. That was the condition attached to the bail she granted in court. I don't understand Abaribe's strenuous effort to wriggle out of being Kanu's surety after his ward disappeared. There might be a legal explanation which might come to light as the case is entertained again come 20th November 2017. The military intervention which led to Kanu's apparent disappearance was an event that Abaribe and other bailers could not have foreseen. They could not have succeeded in persuading the military not to carry out the order to nail Kanu, even if they had tried. Whether Kanu escaped or he died during the military siege or he is in the hands of the military, only the military can account for it, not Abaribe and company.
This is my layman's view, and I stand to be corrected.
The post Army should produce Nnamdi Kanu- Ochereome Nnanna appeared first on Vanguard News.