Uduaghan congratulates Ayiri, commends Olu of Warri
By Egufe Yafugborhi
WARRI – THE Olu of Warri, His Majesty Ogiame Ikenwole, has conferred on industrialist, Chief Ayiri Emami the coveted title of Ologbotsere (Prime Minister) of Warri kingdom.
The Warri monarch bestowed the honour on Ayiri in a restricted ceremony where Chief Gabriel Awala and Chief Johnson were also conferred as Uwangwue and Iyasatsere of Warri respectively.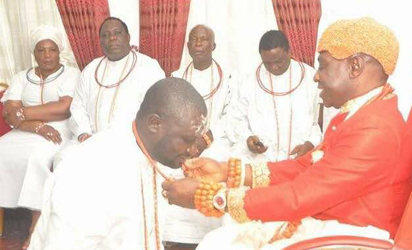 Governor Emmanuel Uduaghan, among the earliest Itsekiri leaders to react to the development, praised the Warri monarch on the decision, praying God to grant Chief Ayiri the wisdom and comportment to hold the title in uplifting the Iwere land to greater height.
An elated Chief Ayiri said, " I am overwhelmed by this great honour and the show of love by the Itsekiris. I believe to whom much is given, much is also expected".
"The reward for work is more hardwork. I will use this position to advance the cause of the Itsekiri and Warri kingdom"
Details on this will follow shortly
The post Breaking: Olu of Warri appoints Ayiri Ologbotseere of Warri kingdom appeared first on Vanguard News.