By Dirisu Yakubu
ABUJA – Senator Buruji Kashamu (PDP, Ogun East)has called on the Economic and Financial Crimes Commission (EFCC) to intensify effort in the corruption trial of former Ogun State governor, Otunba Gbenga Daniel, describing his ambition to become the National Chairman of the Peoples Democratic Party as "A mockery of democracy and assault on the anti-corruption war".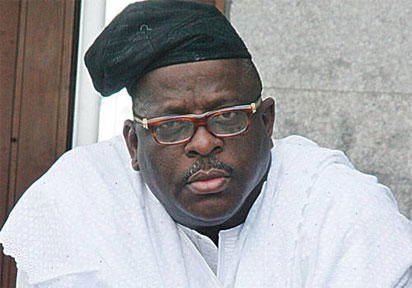 In a statement issued on Sunday, the lawmaker said Daniel's declaration was as repugnant as his utterances at the event which was held last Wednesday at Transcorp Hilton, Abuja.
"Integrity is indeed a function of perception, otherwise, how can Otunba Gbenga Daniel (OGD) seek to become the face of the opposition in modern Nigeria and possibly become the leader of a party in government? Truth be told, OGD is like "a rotten mackerel" in the moonlight; he shines from afar but stinks badly at close range!
"It's therefore high time that those of us in the PDP realised that the current economic adversity of Nigeria cannot become a licence to take Nigerians for granted by presenting proven corrupt people for high public offices. Ignominious corrupt public office holders of the recent past shouldn't be allowed to shamelessly brace up for a criminal continuation as if all is well.
"Daniel's speech at his declaration for the PDP National Chairmanship race was a compendium of mockery of our democracy and direct assault on the anti-corruption war. In that speech, there was nothing OGD didn't call himself whereas he is actually the exact opposite of all these attributes. He insultingly eulogised the undemocratic past of which he was eminently involved; when our elections were characterised by shameless rigging, as if current efforts and legislations to ensure free and fair elections are unworthy.
"Furthermore, he sought to trivialise his ongoing EFCC case where he is truly being accused of converting Judge's quarters into his private mansion, converting government land and other innocent people's land acquired fraudulently under the pretence of public use, into his commercial hotel project, etc, etc and sundry corruption allegations and visible abuse of office. He has indeed by this, thrown an open challenge at the EFCC and by extension, the Federal government," the statement read in part.
Kashamu further added that the recent public outing by Daniel is an attempt to turn attention away from his trial, even as he called on government to revisit the case urgently.
"I implore the federal government and particularly Ogun State, to show more interests in the OGD -EFCC affairs; more so now that prosecuting witnesses are being scared off from appearing in court. This unholy arrangement has already emboldened OGD as capable of weakening the chances of his conviction.
"Candidly, this current pretensions and public bravado of a chairmanship contest by OGD is truly aimed at turning his corruption cases and sundry pending criminal assaults and killing allegations into cases of political victimisation and assault on the opposition. As much as one calls on the government to take needed necessary actions by refusing to be cheaply blackmailed; more importantly, the leaders of PDP need to ensure that our party and indeed, all of us, are unwittingly not dragged into an avoidable, disgraceful and infamously criminal corruption saga."
Away from corruption, the lawmaker also enjoined the Police and the Attorney-General of the Federation to reopen investigation into the alleged politically-motivated killings during Daniel's eight years in office (2003-2011).
He added: " I wish to reiterate and appeal to the Police and the Attorney-General of the Federation to expedite actions on the multiple killings in Ogun State while he was governor. I have much earlier, written detailed petitions to the Police on these to which OGD has made statement to the police.
"Also, confessional statements and implicating accounts, some of which are in affidavits by witnesses are already with Police. Few of these killings and unlawful assault include but not limited to: killing/disappearance in Shagamu of Age Omolemomu; killing of Arojo from Yewa, Ogun State; killing/disappearance of Awoyemi in Ikenne, Ogun State; and the multiple killings of over hundred of the Olabisi Onabanjo University students on protest against OGD administration whose corpses were callously dismembered and thrown into the river.
"It is public knowledge that when OGD was Ogun State Governor, nobody dares to disagree with him without being assaulted, maimed or killed unceremoniously by his government-aided cultists and/or killer's squad. Most interesting is the multiple assaults on the current Ogun Governor, Senator Ibikunle Amosun when OGD was majestically reigning as violence-loving governor without caution and decorum."
The lawmaker also accused the former governor of being "perpetually broke financially, making him a continuous extortionist and expert cash flow manager. As he rakes in money, he pumps straight into property developments; ranging from hotels to houses in proxy's names. This is a habitual corruption trait he must have developed as a serving governor when he actually started building his chain of hotels and sundry property developments locally and internationally, to cover his tracks."
Kashamu also said Daniel is flirtatious, duplicitous and greedy, stressing that, "Now, out of office and with his declining lift engineering business, OGD's present occupation is political extortion of gullible aspirants, majorly Ogun gubernatorial hopefuls. He is currently awkwardly combining the mentoring of the conflicting gubernatorial aspirations of PDP's Ladi Adebutu with APC's Yayi! Isn't this amazing?
"I understand that just late last week, he collected N40 million cash, in two Ghana-must-go bags, from Chief Kensington Adebutu for his phony chairmanship declaration alongside multiple political swindling of other unsuspecting wealthy people using PDP promising opposition status."
The post Expedite action on Daniel's trial, Kashamu tells EFCC appeared first on Vanguard News.