It's true you can't help who you fall in love with. That's why, once in a while you see a beauty-and-the-beast combination and wonder if a bit of madness – or " African' magic! – is not involved. Betty was only eight years old when her aunty visited with Ugo, her latest 'catch'.
A few years later, her mum announced she'd fallen out with her sister – end of Ugo's visits. "Two years went by," recalled Betty, "then one evening, clicking onto my Facebook inbox, I was mildly surprised. 'Hi sweetie,' wrote Ugo, `it's me Ugo. Sorry, I haven't been in touch but I just learnt how to use my computer?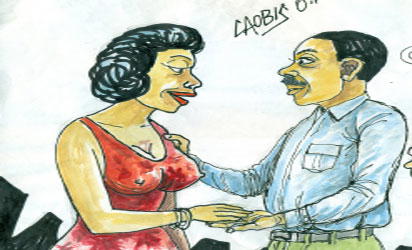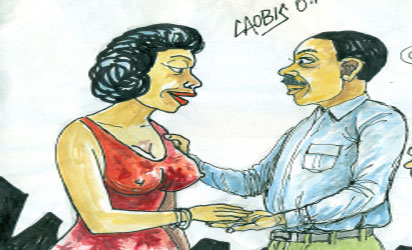 "That figured. He must be in his 60s by now. The message continued: 'Don't know whether you're aware your aunt and I have split up. Please keep in touch. Love, Ugo.' I was certainly happy to hear from him and I replied that I'd missed him.
We swopped numbers and a few days later, Ugo invited me to his flat. I was very excited. He might be some forty years older, but he was a fun-Ioving man and when I got to his flat, his balding head and friendly wrickIed face instantly put me at ease.
I was only 20, but he opened a bottle of wine. As"we drank, I noticed he now looked a bit rough round the edges, but his flat was bright and airy. It became my haven as time went on. I spent all my free time there, cuddling up to him as we watched the telly. Sometimes, when our hands brushed against each other, electric shocks ran through me. I couldn't deny how I felt. He was old enough to be my grand-dad, but I wanted him.
"Then it happened. After a particularly good romantic film on the telly, I was leaving when he kissed me. My fingers and toes tingled as his lips clung to mine. That was certainly some kiss! I'd had boyfriends before, but I'd never felt that kind of spark.
He pretended as if he was sorry. 'I don't know what came over me. You're so pretty.' Before I even had time to think about right or wrong, we kissed like our lives depended on it. As he led me to the bedroom, he told me 'I'm worried I won't be able to keep up with you in the bedroom.'
"I told him not to worry and we spent the night in each other's embrace, running our hands all over each other, making love whatever way we could. At 64, he was 42 years older than me. But I didn't care. I was infatuated. After that, I only went back to a flat I shared with two other friends for a change of clothes. I couldn't bear to be apart from him.
Unfortunately, my mum was outraged when she found out. 'You're ruining your life!' she yelled at me. I told her I loved him and she said I didn't know the meaning of love. I was convinced nothing could tear us apart, not even the wrath of my aunty, his ex.  When she found out, she refused to speak to me for months.
"In the meantime, Ugo treated me like royalty. I was the happiest I'd ever been as I cooked him meals and ate out some of the time. The sizzling bedroom action was the dessert. I didn't care that he took time to get going – but once he did, wow! And I loved doting on him, massaging his dodgy back and knees and putting up his chair. Once in a while, people have asked if he was my grand-father when we went out, but I tell them I was the girlfriend.
"Last Christmas, Ugo wanted me to move in with him but after doing the native law and customs marriage. That was good enough for me and we started planning a modest wedding. As the weeks to our wedding flew past, I had to remind Ugo to take it easy on his outings with' the boys' as we
needed money for the wedding and the reception. One day, he snapped I should stop nagging him and making him nervous. How he could barely look at me, and our steamy sex life had gone down the drain!
" 'Is there any thing wrong?' I eventually picked up the courage to ask him. 'I don't think this relationship is working,' he said it was like I'd been stabbed in the heart. 'Why?' I wanted to know but he said I should leave him alone. I didn't go to his flat for a few weeks, convinced he would miss me and want to come back. But after those few weeks, not a peep. Gulping down the little pride that I had left, I went to his place, 'what do you want?' he snapped. 'It's over!'
"Telling him I loved him didn't help, neither did my crocodile tears. 'You need to find someone your own age,' he advised kindly. 'What if you want children one day? I already have four and I don't want more.'
"How could he be talking this way? Did he have another girlfriend. 'No,' he assured me and as I left his flat, he just shrugged and gazed at the telly. It was then I knew it was well and truly over. Even now, I'd do anything to have him back. I know the 42-year age gap isn't ideal, but he pressed the right buttons in me. You can't help who you fall in love with – and boys my own age just don't measure up.
"My mum was relieved the 'madness' was over. Now I can go and find someone my own age. I'm taking things easy now as I still miss being spoilt by Ugo. Old or not, he was the most caring boyfriend I ever had …. "
The post He might be a grandpa, but he's better than most young men appeared first on Vanguard News.