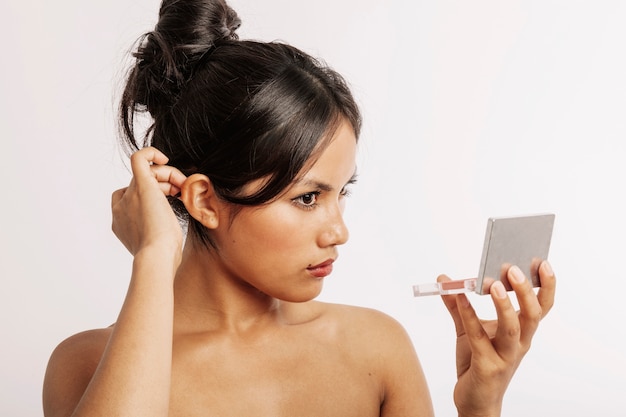 Are you tired of low hair or you are wondering what you could try to make your hair look fuller and healthier, then you really need to read this.
It is true that
genetics
play a key role in hair growth, however,
your diet
,
the weather
,
pollution
, and
your overall approach
to hair care are all critical to maintaining your crowning glory.
Checkout these tips by Healthline below…


1. Pump up the protein
A well-rounded diet is an important factor in hair and scalp health. Hair is primarily made up of protein, so be sure to eat at least 45 grams of protein daily. Good sources include:
lean meat
poultry
fish
beans
low-fat dairy products
eggs
Diets with inadequate protein can result in weak, brittle hair and loss of hair color, as well as loss of hair itself.
2. Zinc about it
Zinc deficiency can cause hair to shed. Incorporate nuts like Brazil nuts, walnuts, pecans, cashews, and almonds into your diet to combat shedding.
Eat and drink an abundance of:
vegetables
fruits
leafy green salads
plenty of clean, filtered water
A multivitamin or zinc supplements can enhance your diet when necessary.
3. Omega your hair nice
Increasing your intake of omega-3 fatty acids may stimulate your hair follicles and sebaceous glands. While this won't cause your hair to grow, it may improve scalp health.
Omega-3 fatty acids are found in cold-water fish, such as salmon, sardines, and herring. Other good sources include:
flax seed
yogurt
cottage cheese
salad
cereal
4. Know thy hair
There are conflicting opinions about how often to shampoo your hair. It all comes down to personal preference and individual needs, which depend on:
your hair type and texture
how often you use hair products
your activity level
For example, people with oily hair may need to shampoo every day, while people with dry hair may need to shampoo less frequently.
5. Choose the right shampoo
Using the wrong shampoo and styling agent can cause significant hair damage. Look for products that are right for your hair type — oily, normal, or dry — and target any problems you have, such as dandruff.
Try to avoid shampoos with harsh ingredients, such as ammonium lauryl sulfate or sodium lauryl sulfate. And remember, cost doesn't necessarily indicate the quality of a product.