By Anthony Ogbonna
The Vice President, Professor Yemi Osinbajo has said that the All Progressives Congress, APC, party led by President Muhammadu Buhari who made a promise of completing the Second Niger Bridge in the South East has paid in $2bn for the project.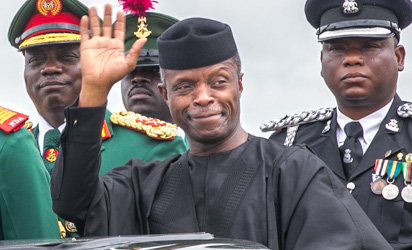 Professor Osinbjo also said that, unlike previous governments, the Buhari administration redesigned the current rail-way network to include the South-east region, a development he said was denied the region by the previous administrations.
The Vice President went on to say that the Buhari-led APc government is not a promise and fail one, assuring that every promise made will be fulfilled.
Professor Osinbajo gave the statement during the flag-off of the governorship campaign of the All Progressives Congress in Onitsha, Anambra State.
The VP also said that Anambra state was the first to benefit from the current administration's school feeding initiative that has employed thousands.
According to him, "We are not making promises for nothing. The second Niger Bridge, we have been talking about it for a long time. But for the first time, President Muhammadu Buhari went by himself to negotiate the facility to do that second Niger Bridge.
"And that is why the second Niger Bridge is in our current budget and we have provided for it.
"In fact, I am being reminded that just two days ago, the Sovereign Wealth Fund paid $2bn for that same project. So we will definitely see our second Niger Bridge. We will not make promises we cannot keep."
"When we were talking of railway, Lagos-Calabar railway, under the old administration, I will not mention them by name.
"They said Lagos-Calabar will go from Lagos to Calabar, there was no connection to the South-East. It was when President Muhammadu Buhari came that we redesigned the Lagos-Calabar in order to pass through Onitsha in the first place.
"By that new design, we also have the Port Harcourt-Maiduguri railway that has a connection to Umuahia-Owerri and Enugu-Awka. So all of those, we will not make promises we cannot keep. Every promise we make, we will keep," he added.
"This state was the first state to receive our home-grown school feeding. This Anambra was the very first state that we gave money for that programme. And we have already in 807 schools, here in Anambra state where these young children (primary schools) are already fed.
"We have over a hundred thousand children that are already fed here in Anambra state, and that is an APC programme, our home-grown school feeding programme.
"We have engaged over a thousand cooks, over a thousand people are cooking. We have our N-Power programme for young graduates.
"Already we have employed over 4,000 graduates and we intend to increase the number," he added.
The post We're not promise, fail govt., have paid $2bn for Second Niger Bridge  – Osinbajo appeared first on Vanguard News.