By Naomi Uzor
D r. Timi Austen-Peters  is the Chairman of Dorman D r. Timi Austen-Peters  is the Chairman of Dorman  Long Engineering Limited, the fabricators' of first Niger Bridge. In this interview, he spoke on the prospects and challenges in Nigeria's galvanizing steel sector, among other issues. Excerpts: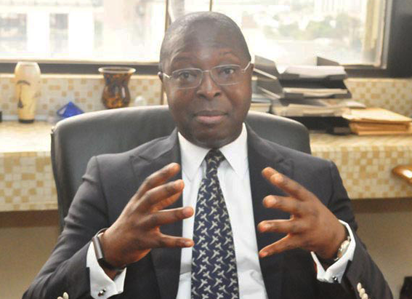 How has the journey been for Dorman Long in Nigeria? 
Well, the story of Dorman Long is similar to the story of Nigeria. It has been in existence just before Nigeria existed as a country. We have been part and parcel of the development of Nigeria, starting with our fabrication of the bridge which is in Onitsha and Asaba- the first Niger Bridge. We have been involved in almost all of the warehouses that are constructed in G.R.A Ikeja, when that decision was taken to turn Ikeja into an industrial hub. Same thing in Port Harcourt; As the company and Nigeria itself got more confidence, we were invited into the Oil and Gas space and then we started producing more complex and high value steel structures in that space. We have been an integral part of the story of Nigeria, as Nigeria has developed confidence in stature, in value and complexity.
How much has the company invested in the economy, especially in recent times?   
It will be very difficult for me to put a number to it because the investments are in different ways. One, we spend a lot of money locally, we buy diesel to maintain our galvanizing yard, we employ about 500 people but we train hundreds of people every year. You can't put a value to some of these things.
In terms of capital investments, we haven't done a lot recently because we have three yards already, we have excess facilities. If you come to our galvanizing yard, you will see that we invested almost $6 million in the galvanizing yard. It has never done 10 per cent of its capacity, why? It was established in order to support the fertilizer plants, Liquefied Natural Gas, LNG plants and so on but none of them have taken off. So you put this beautiful facility down, so after doing that, the company has not had a lot of appetite to make further investments.
What's the update on your plans to establish a yard either in the South- South or in Lagos? 
That's exactly the point I made, we are about to in the next couple of years but you are asking me what we have done historically. Historically, we haven't done anything since that galvanizing facility, going forward; we still fully intend to do so. We are likely to do so maybe middle of next year is when that process will start. But the truth is that we have three yards in Lagos and plenty of capacities to do anything that we need to do.
I understand that the prices of steel products are reducing by the day, so how does it affect Dorman Long? 
Well, in a way it does not really affect us because we do not produce steel. Steel is not our commodity; it is what we turn steel into. It is the value that we add to steel, that is our bread and butter. So, in principle, if steel is cheaper, our clients should be more encouraged to embark on projects which see us getting more work but the reality is, Nigeria in particular, the world has gone through very tough times, especially in the space that we primarily operate which is the Oil and Gas space. So there haven't been a lot of capital projects in these last few years. In the last two to three months, there has been an appreciable surge in decisions, orders being placed with us. So you can see that there is a fundamental difference between the last two- three months and the previous couple of years.
What are the challenges with steel companies in Nigeria? 
Number one we do not produce steel in Nigeria, so somebody like me that needs to be doing steel products, I still have to import, it does not make sense as it adds to expense. Also, am held ransom because of the people who sell steel at the prices they like. Once Nigeria can produce its own steel, I am able to procure steel locally at a sensible price, cheaper transportation cost and that makes life easier.
How are government policies affecting your business?
Well, it is the government policies that have led to the fact that our galvanizing yard is only at 10 per cent capacity. Also, government no longer follow through on various decisions to do fertilizer, brass LNG and so on. Then number two, in terms of fabrication especially of towers for telecommunications and power industry this is one of the main areas we are suffering. When we want to build a tower in Nigeria, we are paying between five and twenty-five percent duty on some of the components because Nigeria does not produce all of these things. However, when somebody comes with a fully built tower from outside Nigeria, they get 100 per cent waiver.
That does not make sense and that is something we suffer from. We are at the committee for steel as the House of Representative has been doing public hearings. We have made submissions there, we have participated actively, and we have written memos on this matter so it is something that we are pushing aggressively with government. You know because most countries, they look for how to protect especially this steel industry, the fabrication of towers and other people who bring in towers have to pay premium as opposed to getting a waiver.
As the economy is recovering, what are the plans to expand?
So as I always say, Dorman Long is a steel engineering company. It is not an Oil and Gas company, so we play not only in the Oil and Gas space but in power, telecommunications and heavy industry. As all of those areas begin to breathe, as there are projects in all of those areas, Dorman Long intends to participate actively in all of them and so we expect that those would be the major growth areas but even in the area where we are concentrated in now there are few of very significant capital projects.
There is one that is likely to be announced in the next couple of weeks of which we are a major component. We are seeing a major surge as I say in the work of the company, so the company will expand its operations and it is because of this, our view of how the future is going to be that we are determined to upscale our capacity by having a new yard over the next couple of years.
The post Why steel imports doesn't make sense – Austin-Peters appeared first on Vanguard News.