By Onome Amawhe
In 2013, when Barrister Allen Onyema floated Air Peace, his goal was to keep the carrier flying. He is now keen to create a new breed of air service. Indeed, so much has happened in the three years since the airline company emerged on the Nigerian airspace: facing the hurdles common with airline ownership, intense public scrutiny, competing priorities, insufficient freedom to operate commercially, and a host of other challenges. After weathering these familiar storms, his aspiration is to turn Air Peace into a five-star value carrier.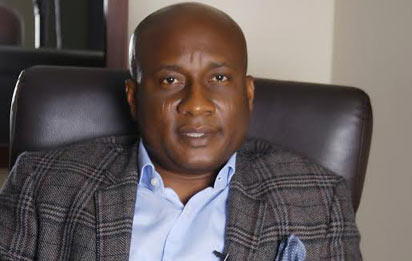 How would Air Peace describe its brand character?
Since we commenced flight operations three years ago, we have been able to focus on developing a customer-centric brand personality that speaks to safety, innovation, dynamism, comfort, fun, sincerity, affordability and quality service. These corporate traits have given us a unique identity in the Nigerian aviation industry. This has been our unwavering commitment in the last three years and we are grateful that our esteemed customers appreciate our sincerity and have continued to support us in very wonderful ways.
What are the distinguishing features of Air Peace operations?
The singular most important need of the flying public is safety. Without trying to sound immodest, we can say with all sense of responsibility that we have successfully pursued a regime of safe flight operations no one thought possible before the coming of Air Peace. Our reputation for safe flight operations has remained unrivalled. We do not only maintain our aircraft at some of the best maintenance facilities in the world, we also have BCT Aviation of the UK, one of the best aircraft maintenance facilities in the world, to handle the routine maintenance of our aircraft at our hub in Lagos 24 hours every day of the week throughout the year. For us, there is no shortcut to matters of safety. We take pleasure in spending heavily on maintenance because of the premium we place on the lives of our guests.
What would you describe as the most important accomplishments during these past three years?
Our biggest accomplishments in three years are the lives we have given a meaning through job creation. Job creation is the pivot of our dream; it's the passion that drives and sustains us in business. And, of course, we have transformed flight operations in Nigeria with our on-time performance and safe flight operations reputation. Without Air Peace, Nigeria would still have been grappling with the era of avoidable flight delays and cancellations. We rescued Nigeria from the regime of impunity in the aviation sector.
The ever-increasing development of local airlines, as well as global giants, has created a highly competitive environment. Do you think Air Peace has had its fair share of envious glances?
There is stiff competition in the aviation sector, no doubt. We, however, believe the sky is wide enough for us all to fly. It's unfortunate that some airlines, both domestic and foreign, have failed to appreciate the industry in this light. They would rather resort to regrettable anti-competition tactics in a bid to demarket airlines they consider a threat. From sponsorship of absolute falsehood to destructive fare wars, Air Peace has had its dose of unhealthy competition. This, regrettably, is not in anyone's interest overall.
How have you adjusted to deal with the increased competition?
We have been able to survive competition in the industry through adoption of the right management style and our resolve to compete on customer service. We have continued to enjoy the benefit of good customer service, which has resulted in a large base of loyal customers. The unwavering loyalty and support of our esteemed customers has been our biggest asset in the last three years.
What is the airline's ongoing strategy to establish a robust presence?
In 2016, we developed an all-encompassing five-year expansion plan we have started executing. The plan focuses on the customer and capacity- building. You cannot sustain or grow your presence without a supportive customer base. In fact, success in the airline business rises and falls on a loyal customer base. If you can't strike a lasting bond and connection with your customers, you have no business in the airline business. Fortunately for us, our ever-expanding base of loyal customers has been our greatest strength in the last three years. We are determined to even deepen this connection with the flying public through the provision of more customer-centric offerings in the days ahead. We are making sincere effort to ensure that the members of the flying public receive the best service for the most affordable fare. This will ensure more people embrace air travel, thereby sustaining our operations and presence wherever we go.
To what extent have fuel costs complicated your business since you commenced operations?
On a global scale, fuel accounts for an average of 40 per cent of airlines' operational costs. In Nigeria, we should be talking of an average that is close to 50 per cent. This cannot be good for business anywhere. Foreign airlines have resorted to sourcing the fuel for their operations into and out of Nigeria elsewhere. We need to urgently tame the rising cost of fuel for flight operations.
How much of your success is due to the fact that you are new?
Our success has nothing to do with being new. We have shown in three years that we are not in the airline business to joke. We commenced operations on the back of a sound plan. Each day, we keep building on this plan and addressing challenges with dynamism. We are not near the mark we set for ourselves yet, but we are comfortable that our journey in the aviation industry is well on track and is going in sync with our plan.
What's your strategy for dealing with the inevitable challenges, delays and frustrations that occur during travel?
No matter what you do to ensure on-time performance, delays and other associated challenges cannot be completely avoided in the aviation industry. A host of factors, technical challenges, weather, infrastructural shortfalls and other circumstances beyond the control of the airlines, make delays and even cancellations inevitable. Be that as it may, I admit that these challenges can be managed with a view to mitigating their impact on the travel plans of the flying public. One of such ways we have tried to manage these challenges is making a back-up arrangement, especially if the issue is technical. Communication is also key for us. We try as much as we can to explain to our esteemed guests that some of the difficult decisions to delay or even cancel a flight may be very painful but taken in the interest of their own safety.
In what ways are members of staff empowered to make decisions to help relieve passenger stress?
Without any fear of contradiction, I can confidently say Air Peace is the most liberal airline in Nigeria in terms of the latitude of discretion exercisable by members of staff. I give you just one example. Our touch point supervisors and managers have the unfettered authority to provide hotel accommodation, issue free tickets in deserving circumstances without resorting to top management. All they need do is endorse the circumstances of the decision simply for the purposes of proper documentation. This clearly depicts the level of trust we repose in our people.
What are your plans in terms of expansion; are you focusing on any market in particular?
We are currently working on a huge expansion project that has now increased our fleet size to 24 aircraft. It is a three-pronged plan comprising the domestic, regional and international components. Our expansion targets both current and potential flyers. Our goal is to democratise flying; making flying a way of life, a matter of course. We are deeply serious about creating a huge appetite for flying among members of the public. The six Embraer 145 we acquired would be deployed to service domestic routes with the challenge of austere load factor or limited runway facility. While we have since started flights to Accra, our expansion on the West Coast of Africa targets at least eight other destinations at the moment, including Dakar, Abidjan, Freetown, Lome, Niamey, Douala, Banjul and Liberia. We are also working hard at commencing international flights to the six destinations – London, Dubai, Guangzhou-China, Mumbai, Houston and Johannesburg – the Federal Government has magnanimously designated us to fly into.
What are your comments on your fleet?
We have a fleet of some of the most rugged and comfortable aircraft in the world. With 24 well-maintained aircraft at the moment, I can assure you we are just on track with our fleet expansion programme. We hope to be a reference point in terms of fleet size and maintenance on the continent of Africa in the nearest future.
In the long term, how big do you envision Air Peace?
Our long-term vision is to be the world's best carrier out of Africa. We don't just envision ourselves as being big on the domestic or regional scenes. We are ready to go out there and rank shoulder to shoulder with the current big airlines of this world. For us, with the continued support of our esteemed guests and stakeholders, there is no mark too high to score.
The post Air Peace will become world's best carrier out of Africa- Allen Onyema , Chairman / CEO Air Peace appeared first on Vanguard News.