It is a slap in the Face, Says Saraki 
By Henry Umoru 
ABUJA- THE Senate yesterday condemned in very strong terms, the current depravity and sheer animalism being exhibited in Libya where Africans and mostly Nigerians were auctioned as slaves, prices as merchandise and sold off like animals.
The Senate which officially reacted to sales of Nigerians as slaves in Libya, however described the ugly trend as most barbaric in the 21st century.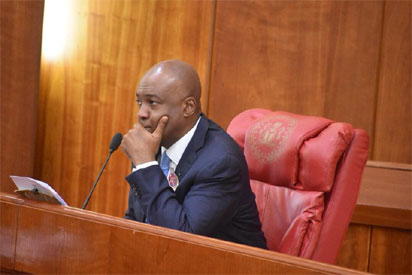 Against this backdrop, the Senate has urged the  Ministry of Foreign Affairs to summon the Libyan Ambassador to Nigeria and discuss how to end the ongoing Libyan slave trade which allegedly involves the sale of Africans, some of them of Nigerian descent, as slaves.
Senate resolution was sequel to a Senator Baba Kaka Bashir Garbai, APC, Borno Central and entitled, "Urgent Need to Protect Nigerian Citizens from the Libya Slavery Auctions."
The Senate has also called on President Muhammadu Buhari, to use the opportunity of the ongoing European Union and African Union (EU-AU) Summit in Abidjan to table the matter before the Libyan delegation.
In his remarks, Senate President Bukola Saraki said: "As a country it is a slap in the face if Nigerians can be treated in this manner. Other countries are taking necessary actions to bring back their citizens from that troubled country. We need to be doing similar things. The Ministry of Foreign Affairs must immediately summon the Libyan Ambassador here in Nigeria to explain what is happening, so that we can bring an end to this situation."
Also in his contribution, Deputy Senate Ike Ekweremadu said that the Senate must urge Governments at all levels in Africa to take steps to ameliorate the economic hardship that is fueling the migration crises.
Speaking on the motion, Senator Bassey Albert Akpan, PDP, Akwa Ibom North West said: "The time has come as a country to look into this issue. The Nigerian Ambassador to Libya must be invited to explain why this slavery auction has been going on unabated."
"It is high time that we resorted to citizen diplomacy in Nigeria," said Senator Dino Melaye, contributing to the motion, "The Nigerian government must not only take the life of every Nigerian seriously, it must also defend its citizens wherever they are in the world."
Contributing, Senator Dino Melaye accused the Federal government of lacklustre attitude in the obvious dehumanizing attitude of Libyan government to Nigerians.
He added that other African countries were proactive in evacuating their citizens, noting that the victims were still Nigeria's nationals despite being on illegal migration.
Senate passed the prayers that Nigeria Minister of Foreign Affairs should invite Lybian Ambassador to Nigeria for questioning over the treatment of Nigerians in that country.
Senate President, Dr. Bukola also upheld that diplomatic steps be taken against all those involved to ensure that they face the full weight of international laws.
Earlier in his presentation, Senator Baba Kaka Bashir Garbai said that "The Senate: Notes with dismay the latest report being aired on CNN of slave markets at various locations across Libya, where Africans and mostly Nigerians are auctioned as slaves, priced as merchandise and sold off like animals;
"Sickened to note that the CNN video available on YouTube which had brought about a global outrage witnessed the sale of 12 Nigerians for prices as ridiculous as $400 to $800;
"Notes with utmost concern and grief that this completely stone-age, inhuman and barbaric act is going on today, within the 21century civilization;
"Acknowledges that there is an on-going global outcry against this sickening crime against humanity, several protests in mostly European countries such as Paris and Brussels whilst we who are the most affected as these are our children, our brothers and sisters, our youths, are indifferent;
"Notes the report of a survivor that they are being kept in unsanitary conditions, made to endure regular beatings, forced into labour in the fields with little or no food and some are killed in the process. As described by a survivor "It was total hell in Libya. For the Arabs (Libyan jailers), black-skinned men are nothing but animals – animals were treated better. People who want slaves come to buy us and if you resist, they shoot at you";
"Observes that this is a humiliation not just to Nigeria and Africa as a whole but also to human civilization and the fundamental principles of human rights under the United Nations Charter;
"Notes further that these are our people who are just trying to flee from poverty and deprivation;
"Observes that just this year, no fewer than 10,000 Nigerians have died while trying to illegally migrate through the Mediterranean Sea and the deserts. Just recently we mourned the death of some Nigerians among the 26 young girls who died in the Mediterranean Sea;
"Notes that not long ago, about 4,000 Nigerians were intercepted when they were about to enter the Mediterranean Sea and deported from Libya. The Libyan immigration authority informed the CNN that of an estimated 25,500 migrants, 4,000 are from Nigeria, and are being held at various detention centres in the country;
"Notes the report by Libyan officials that its detention centres are full and they have only deported 5% of the 20,000 in the detention centres because of lack of response from the home governments of the migrants;
"Worried that the Libyan government does not have the means nor the commitment to crack down on the perpetrators as their hands are full. Hence these smuggling networks are killing, torturing, extorting and detaining migrants at will;
"Aware that other African Countries such as Ivory Coast have taken active steps to protect their people from these despicable acts and bring them back to their home countries;
"Observes that our constitution makes the welfare and protection of citizens as the reason for government and we will be failing in our duty if we sit idle and watch any Nigerian being put into slavery. Every Nigerian's life matter."
The post Alleged Slave Trade Activities in Libya: Senate Condemns Act, Seeks Urgent End to it, urges the FG to Summon Libya Ambassador appeared first on Vanguard News.