Ekiti State Governor, Mr Ayodele Fayose has told President Muhammadu Buhari to stop being hypocritical about his fight against corruption and rid his government of corrupt elements first, saying; "Someone needs to tell the President that Nigerians no longer believe in his anti-corruption fight because he harbours the most corrupt Nigerians in his government."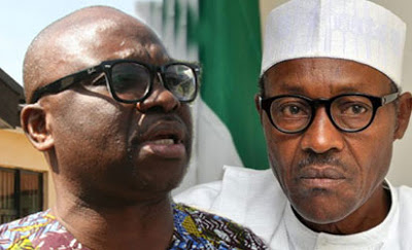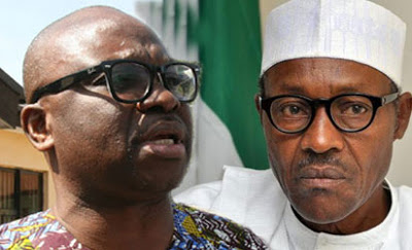 President Buhari had said yesterday, in Abuja during the presentation of the book, "Making Steady Sustainable Progress" that any public official caught will go to jail.
Reacting through a statement on Friday, by his Special Assistant on Public Communications and New Media, Lere Olayinka, Governor Fayose asked; "How many of those indicted of corruption in President Buhari's government has he jailed? Isn't it the height of hypocrisy for a President that is using APC broom to sweep corruption involving his men under the carpet to be talking about jailing anyone caught stealing public fund?"
The governor, who insisted that President Buhari was only hiding under anti-corruption fight to harass his perceived political foes, said; "We have a President who is the Life Patron of Corruption in Nigeria. His government is not only corrupt, the government itself is corruption! Sadly, our President is still carrying on with the mindset that Nigerians are still listening to his lyrics of 'we are fighting corruption.'
"Today, it is seventeen days since President Buhari sacked the suspended Secretary to the Government of the Federation SGF, Babachir Lawal, and the Director General, National Intelligence Agency (NIA), Ayodele Oke, has any of them been arrested by the EFCC?
"Apart from sacking Oke, has President Buhari told Nigerians any other thing about the $43 million discovered in the Osbourne Towers, Ikoyi, Lagos apartment? Who owns the apartment?
"What has happened to those involved in the fraudulent reinstatement of the former Chairman of the Presidential Task Force on Pension Reforms, Mr Abdullahi Maina, who was declared wanted for corrupt practices by the International Police Organisation, (INTERPOL) after he was dismissed from office by the Civil Service Commission in 2013 for allegedly committing N2.1 Billion pension fraud while in office?
"Why hasn't Maina been arrested by the EFCC up till now?
"When the Minister of State for Petroleum Resources Ibe Kachikwu's alleged that the Group Managing Director (GMD) of the Nigerian National Petroleum Corporation (NNPC); Dr. Maikanti Baru awarded $25 billion contracts without following due process against and weren't Buhari's men the ones defending Baru?
"Isn't the same Abba Kyari, who was accused of collecting N500 million bribe from MTN still Buhari's Chief of Staff? Has anything been heard about the $5 billion fine imposed on MTN by the federal government after Abba Kyari allegedly received the N500 million bribe?
"Methinks President Buhari should face the reality that there are people in his government that should be in jail by now for corruption. Not until he jails those corrupt elements that are wining and dining with him, Nigerians will continue to liken his threat to jail anyone who steals pubic fund with a cow thief threatening to jail a fowl thief."
The post Anti-Corruption: Jail corrupt people in your govt first, Fayose tells Buhari appeared first on Vanguard News.