The National Coordinator APGA Media Warriors Forum, Evang Chinedu Obigwe, Tuesday faulted Tony Nwoye's claim that Ex-president Goodluck Jonathan was behind his 2013 governorship election woeful lost. He noted that Nwoye's lack of executive and managerial power detected earlier in him by Ndi Anambra made him lose the election.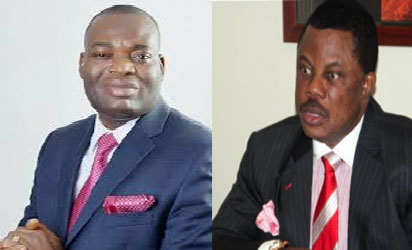 "I fault your claim of losing the 2013 gubernatorial election to the incumbent Governor Obiano because of the betrayal by Ex- President Goodluck Jonathan. He did not betray you, rather you are simply not worthy of the executive seat", he said.
He stated emphatically that Tony Nwoye lost the election because the people of the State did not see him as somebody that is worthy of being entrusted with their future.
His words "Tony Nwoye lacks the moral justification to accuse Ex President Goodluck Jonathan of betraying him when he is guilty of the allegation he is leveling against Jonathan".
In his press release issued to newsmen on Tuesday,  Obigwe alleged that during the 2010 gubernatorial election in Anambra State Tony Nwoye then in PDP betrayed Prof Charlse Soludo the PDP candidate by working for Peter Obi's  second term re-election. This he said was because Soludo refused to pick him as his Deputy Governorship candidate for that election.
"He who resides in a glass house does not throw stones", he said.
Read parts of his release
"Tony Nwoye's claim of delivering three Senators, House of Reps members and 30 House of Assembly members for PDP in 2007 is a concocted tissue of lies that can only fly in his warped imagination.
"The 2007 election was seen by people to be massively rigged by the then PDP led Federal government.
" My advice to Tony Nwoye is to stop looking for an avenue to secure the APC led Federal government support to rig the forthcoming November 18th election because attempting to rig the election will be politically suicidal and will reverse Nigeria democratic gains."
Conversely, Obigwe also took a swipe on Oseloka Obaze, the PDP governorship candidate for turning himself to Mr. Peter Obi's attorney during the Channels television debate.
"The reason why Obaze was speaking with bitterness was because of Governor Obiano's refusal to pay Mr. Peter Obi the 7.5billion naira he demanded from him thus, made him to lose his own anticipated share of the 7.5billion naira", he stated.
Obigwe further advised Anambra electorates to ensure that they resist any electoral malpractice in the forthcoming election for the security of their future.
This he said was because if they allow the election to be rigged it would be tantamount to them being defrauded of their four years future by electoral fraudsters.
He stated that continuity remains the bedrock of sustainable development and that for this reason they must do the needful by returning Governor Obiano to office perhaps to continue his administrative transformation of Anambra State to a modern State.
"Vote APGA, vote Willie Obiano to secure your future", he finally said.
The post APGA Forum to Nwoye: Don't blame Ex-president Jonathan for your 2013 gubernatorial failure appeared first on Vanguard News.