Solomon Dalung, Minister of Youth and Sports, on Monday, unveiled the logo for the 2018 Africa Wrestling Championships at the opening ceremony of Gov. Nyesom Wike National Wrestling Championships.
The ceremony was held at Alfred Diete-Spiff Civic Centre, Port Harcourt.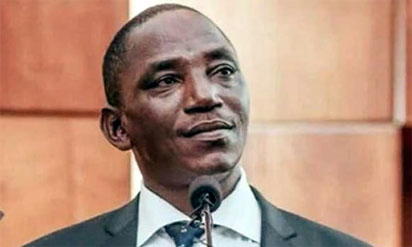 The Rivers Government will host the 2018 African Wrestling Championships in February.
Gov. Wike of Rivers, Daniel Igali, the President of Nigeria Wrestling Federation, George Gould, the President of Liberia Wrestling Federation and former Super Eagles Captain, Joseph Yobo.
The minister urged Wike to appeal to other state governors to redirect their investments to supporting sports development in the country.
Dalung said other governors should identify talents and sponsor them, adding that "encouraging these athletes will make them realise their potential.
"My job is to create an enabling environment, provide good leadership, support and inspire young athletes and to ensure that they become great leaders in future."
Dalung commended Wike for setting an agenda ahead of the 2018 African Wrestling Championships.
He added that "this is a step in the right direction for our success at the championships. We would be having over 54 African countries here in Nigeria.
"Opinions might differ as to why Rivers has the hosting right but permit me to say that sports have no political agenda.
"Believe me it's only in sports you can't fake things."
The minister explained that sports made the country proud even if other sectors lagged behind.
"We will partner with anybody who wants to sponsor sports."
Dalung, however, urged athletes who made the team list to the African Championships to train well and compete favourably.
"I am hoping to harvest as many medals as possible here in Port Harcourt in February," the minister said.
Responding, Wike thanked Dalung for gracing the opening ceremony and for unveiling the logo for the African championships.
He also commended his stand on sports development in Nigeria.
He added that "I am glad the minister agreed to allow Rivers to host the African championships come 2018."
Wike also applauded Igali for making Rivers' hosting right a reality.
The governor said "I promise to always support Nigeria Wrestling Federation. I assure that the African Championships will be a success."
Igali also commended Wike for agreeing to host a tournament of that calibre and appealed to the governor to make the tournament an annual one.
"We are very grateful to Rivers Government for hosting this national championship.
"From this tournament, we would select 90 wrestlers to represent the country in February at the African Championships.
"We are working to ensure that these wrestlers also make remarkable impact and win as many medals as possible.
"However, 18 coaches will be duly selected to coach the wrestlers and make us proud."
The post Dalung unveils logo for 2018 African Wrestling Championships appeared first on Vanguard News.