Aba (Abia) – The contractor handling the rehabilitation of the Enyimba International Stadium in Aba, MoniMitchelle Sports Facilities Construction Limited, has promised to deliver the stadium before the 2017/2018 league season starts.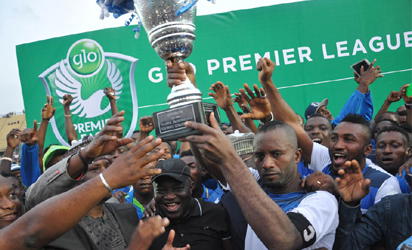 Ebi Egbe, the company's director, on Tuesday in Aba said that the facility would be ready before on Jan. 14, 2018.
.
"We are back on site because it is a money play. Government has paid and so we are back to work. Enyimba International Football Club is also my team. So, we are doing everything to return Enyimba home.
"But, as we all know, once there is a delay in contract, it gives rise to variation. However, it will not stop us from doing what we need to do as contractors to assist the state," he said, after inspecting the stadium with the Abia Sports Commissioner, Martins Okoji.
Egbe said Abia government's delay in fulfilling its part of the contract had raised the cost of the work.
"But we will be working and talking with the government to ensure a timely completion,'' he said.
The contractor added that two stairways needed reconstruction to avoid death, as well as the public conveniences, while the dressing rooms are to be upgraded.
He also said Enyimba Stadium needed a Video Replayer Electronic Scoreboard and LED floodlights for it to attain FIFA standard, adding that such facilities would drive usage traffic to it.
Okoji said he has assessed the level of work done and what needed to be done at the stadium to ensure Enyimba FC resumed playing in the stadium in January.
"Abians are interested, the state government is interested, and other sports lovers are interested in seeing that Enyimba return to their stadium very soon.
"The state government is committed to seeing the Enyimba stadium fixed. From what Monimitchelle has told us, that they are going to commence work immediately, we expect that much will be done before Jan. 14,'' he said.
Okoji asked the contractor to visit his office for discussion on anything which could hinder his timely completion of the work.
"I promise to forward such to Gov. Okezie Ikpeazu for immediate action. But you must also deliver quality work that will leave Abia state people excited and not disappointed,'' the commissioner said.(NAN)
The post Enyimba Stadium: Contractor returns to site, promises completion by January appeared first on Vanguard News.