*Plans to set up Nigerian entertainment foundation
WORRIED by the prevailing situation in which Nigerian entertainers go 'cap in hand begging for assistance any time one of their own is down with a terminal disease, veteran actress, Mabel Oboh has hatched plans to stem the tide. The actress  has expressed a strong desire to establish an entertainment foundation to tackle the problem.
Oboh made this known to HVP, during the week, after she visited the ailing veteran actor and broadcaster, Sadiq Daba in his MKO Abiola Gardens,Alausa, Ikeja residence. Sadiq has been down with Leukemia for some time now.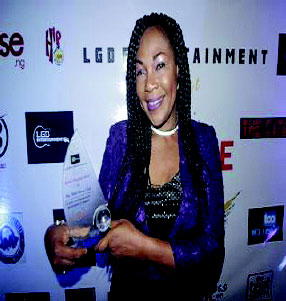 Speaking on the plan, Oboh who returned to acting recently after a long absence from the cinema screen decried a situation where entertainers openly solicit funds to take care of their ailing colleagues. She condemned the act, insisting that rather than  begging for assistance, Nigerian entertainers should  establish a welfare scheme for actors and industry operators alike.
"What I call useless  deaths should stop in the Nigerian entertainment industry. Their counterparts in other parts of the world suffer similar ailments  and they survive them. It's only in Nigeria that when someone suffer an illness and he or she is finished.  So, for us in the entertainment industry, it is time, we  begin to take care of ourselves. I think we should protect our own. I lost  Enebeli Elebunwa and Sam Loco to the cold hands of death because of lack of proper lifestyle. I'm calling on entertainers in Nigeria to learn to take care of their own," said Oboh, who just returned from the UK, where she went for a cancer fund-raising programme.
Oboh said, she intends to replicate similar project in Nigeria, so that ailing entertainers can have access to funds any time the need arises. " I'm planning next year to bring Akorita to Nigeria to organize a fund-raising for cancer. In the UK, she raised funds for breast cancer. I will try to convince her to do similar project in the country since she is a Nigerian. I want a situation where we have funds available for any ailing entertainer before it becomes too late to save the life that person. This is not about talking, I am passionate about this,"he added.
Recall that Ibinabo Fiberesima as the President of  the Actors Guild of Nigeria,AGN, once agitated  for the establishment of a welfare scheme for actors to avert the so many cases of sudden death that have plagued the industry in recent times.
The post Learn to cater for your ailing colleagues, Mabel Oboh tells entertainers appeared first on Vanguard News.