By Davies Iheamnachor
RESIDENTS of Omuma Local Government Area of Rivers State, yesterday, stormed Port Harcourt protesting alleged injustice against the governor of the state, Chief Nyesom Wike, by the Federal Government, alleging that there are plots to destabilize his administration.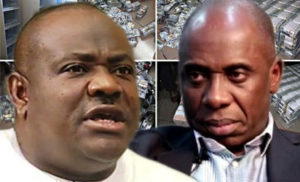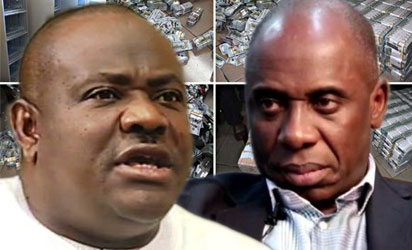 Hundreds of protesters adorned in black attires, who appeared with placards bearing different inscriptions which sais, 'Kill us before you kill Wike', 'Akin must go', 'Buhari choose between Amaechi and Rivers people', also demanded the removal of the Commander of Special Anti-Robbery Squad, SARS, Akin Fakorede, from the state.
Speaking yesterday, the lawmaker representing Omuma state constituency at the  state House of Assembly, Mr. Kelechi Nwogu, alleged that there are plots to ensure that Wike does not complete his tenure, urging the Federal Government to stop mounting pressure on the governor to enable him complete his tenure.
He further alleged plots by the police hierarchy to remove the governor's Aide-De-Camp, ADC.
Nwogu said: "We are here today on this peaceful demonstration to appeal to the Federal Government to allow over governor, Chief Nyesom Wike, to complete his tenure in peace. We are not happy with the attacks targeted at him.
"We heard that his police outrider has been sacked from the police force by the Inspector General of Police. We also hear that they want to remove the governor's ADC, just because of the clash the Minister of Transportation, Mr. Chibuike Amaechi, had with the governor last week.
"What this means is that one day they will ask all the security aides to leave the governor so that he can be killed. The Federal Government and the IGP should rethink and allow the governor do the work which the people of Rivers State elected him to do."
The post Rivers LG protests alleged plots to destabilize Wike's govt appeared first on Vanguard News.