By Lawani Mikairu
Dana Air has said it has flown over 2.7 million passengers in the last nine years of its operation, which it attributes to on-time performance of the airline.
This was disclosed by Mr Obi Mbanuzuo, Chief Operating Officer/Accountable Manager, Dana Air while speaking on the airline's 9th anniversary as a scheduled flight operator.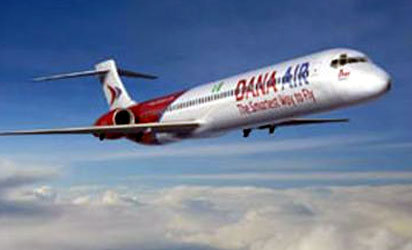 According to Mbanuzuo, "we took our safety standards a notch higher with our membership of the International Air Transport Association and  from the regulators and considering the number of flights we operate daily, we have not disappointed our guests. Our goal isn't to improve on what has been achieved, but to totally re imagine it."
He also said that since commencing flight operations on November 10, 2008, the airline has created an exemplary model and setting the standards for a sustainable and efficient airline operation in Nigeria.
He said: "We are also proud to have flown over 2.7 million passengers in the last nine years of our operation and the fact remains that our on-time performance, world-class in-flight service and customer-centric innovations are still unrivaled.  This is a testament to our obvious passion to keep flying high and offering the best of air transport in the industry."
On manpower development, Mbanuzuo said: " Our commitment to supporting our 'own' while still encouraging professionalism and growth in the Nigerian aviation industry, has led to our recruitment and constant training of Nigerian pilots."
The post We've flown over 2.7m passengers – Dana Air appeared first on Vanguard News.