By Rotimi Ojomoyela
Ado Ekiti — The All Progressives Congress (APC) in Ekiti State, has vowed to use every legal and constitutional strategy to defeat the Peoples Democratic Party (PDP) in the 2018 governorship election.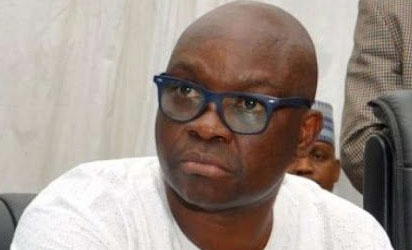 The party said it could not afford to wait for another four years in the fridge, allowing the state Governor, Mr. Ayodele Fayose the free will to continue to dominate the state's political space.
The State Acting Chairman of the party, Mrs. Kemi Olaleye, said this in Ado Ekiti during a visit of the leadership of the Nigeria Union of Journalists, NUJ, Correspondents' Chapel, led by its Chairman, Sam Nwaoko to the APC's State Working Committee members.
Olaleye said the party will put its house in order and connect with all the critical stakeholders like the artisans, teachers, market men and women and political and opinion leaders to make the dream a reality.
"We are determined to win the coming election. We will use every legal and constitutional means; adopt the right strategy to win the July 14 governorship election. We can't wait in the fridge for another four years. One year is too long a year to be wasted in the life of a politician, let alone another four years.
"We know that the coming year, I mean 2018 will be challenging for the SWC because our governorship aspirants will play and do their own things, the state government too but we shall overcome."
Olaleye, who lauded the Correspondents for being apolitical and fair in their reportage, advised media practitioners to allow the opposition have its say about how the people are being governed.
Nwaoko assured the party that media practitioners in the state shall continually embrace the principle of fairness to all parties as the 2018 governorship poll gathers momentum.
The Chairman of the Correspondents' Chapel advised the party to be receptive to criticisms from the media, saying; "this remains the only way the country can get it right in all facets."
The post 2018: We'll deploy legitimate means to dislodge Fayose — Ekiti APC appeared first on Vanguard News.