Argentina and Manchester City striker, Sergio Aguero said he was more concerned about the dangers Iceland and Croatia pose in the group D draw of the FIFA 2018 World Cup tournament.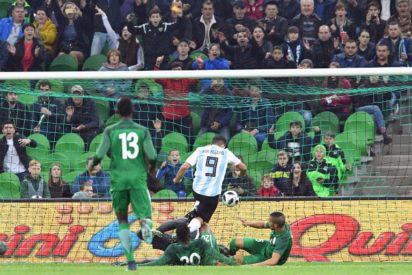 Aguero, who was speaking on the World Cup parings, stated that group D will not be a bad sign for Argentina, even as they will not want to underrate the other teams.
"The group parings are not bad, but let's not say it's very good for us, Iceland is one of the debutants, they do not play badly, they are a very organized team and they have (Gylfi) Sigurðsson.
"Croatia have a great midfield, they have Modric, Rakitic, you have Perisic who plays outside and he's very fast, Croatia is a bit more complete." "They are the first two games, they are the most important, they will not be easy.
Speaking on the 4-2 loss to the Super Eagles in a friendly in Russia, Aguero said that it was probably his team-mates lost concentration as they thought of his health condition. "The second half against Nigeria I could not see, because I was in the Hospital, but when they told me how it panned out, I asked, 'what happened?"
"That happens sometimes, it was because they thought of me, they were scared, I do not know."
The post Aguero downplays Super Eagles threat appeared first on Vanguard News.