….Saraki to appeal 3 other charges to Supreme Court
By Anthony Ogbonna
Justice Tinuade Akomolafe-Wilson-led Court of Appeal sitting in Abuja has, Tuesday, struck out 15 out of the 18-counts amended charges of false assets' declaration brought against the President of the 8th Senate, Dr. Bukola Saraki by the federal government and ordered the Code of Conduct Tribunal (CCB) to conduct a fresh trial of the Senate President on three of the charges.
Recall that In February 2016, the Federal Government had filed an 18-count charge bordering on false assets declaration against the senate president.
The prosecution team, led by Mr Rotimi Jacobs, filed the amended charge on Feb. 8 after trial had begun. Saraki was initially standing trial on a 13-count charge of false asset declaration.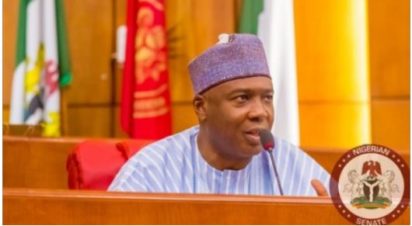 The appellate court,  in a unanimous judgment,  held that there was no evidence to prove the 15 counts as valid charges.
Recall that in a unanimous decision, the two-man panel tribunal headed by Justice Danladi Umar on June 14, had discharged and acquitted Saraki of the charges and had held that the Federal Government failed to prove essential elements of all the allegations it levelled against Saraki.
Also recall that the tribunal had held that oral and documentary evidence which the federal government had adduced before it were discredited during cross-examination, saying the proof of evidence was so "manifestly unreliable that no reasonable court or tribunal could rely on it to make any conviction."
Moreover, in the appeal filed by the Federal Government against the decision of the code of conduct tribunal that the Senate President has no case to answer, the appellate court struck out the 15 counts as lacking in competence.
However, Justice Tinuade Akomolafe-Wilson held that the Prosecution was able to establish a prima facie case against Saraki on counts 4, 5 and 6 bothering on the purchase of house 17 A and B at Mc Donald Street, Ikoyi, Lagos.
The Judge said that there were false claims by Saraki in the declaration forms stating how the two houses in Ikoyi were acquired.
However, a statement by Saraki's aide indicates that the Senate President would be appealing the three count charges at the Supreme Court.
The post Breaking: A/Court strikes out 15 charges against Saraki, orders fresh trial by CCB appeared first on Vanguard News.