The Emir of Kano, Alhaji Muhammadu Sanusi II, on Thursday called on the Federal Government to take stringent measures against unlicensed pharmacists selling drugs to members of the public.
The monarch made the call at an interactive session with President Muhammadu Buhari and community leaders in Kano.
Buhari is in Kano for a two-day official visit to the state.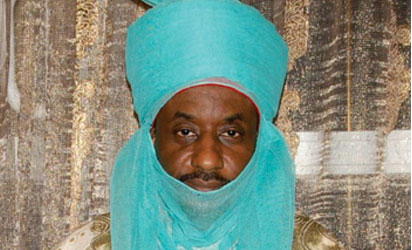 He said the measure was necessary as it would check drug abuse among women and youths, which had become rampant especially in Northern part of the country.
"We have law that allow only licensed pharmacists to sell drugs and they must keep records of drugs they sell.
"Those unlicensed pharmacists selling drugs such as cordine to our youths should be prosecuted to serve as deterrent to others," he said.
Sanusi, who called for urgent steps to check the ugly trend, lamented that 35 per cent of women and youths in Kano state are drug addicts.
He said the Federal Government should also ban the importation of maize and other food items being produced locally.
He said the ban would enable farmers to produce the commodity in commercial quantity.
"The ban on importation of poultry products has boosted the business of the poultry farmers in the country.
He recalled that about nine months ago no fewer than 10 million tons of maize was imported for sale to poultry farmers in Kano.
"This must stop if our farmers are to be supported and encouraged to remain in the business," he said.
The Emir used the occasion to commend Buhari for his effort in the fight against corruption and insurgency.
He specifically commended the president for restoring peace and security, especially in the North East and other parts of the country in the past two years.
"We are all living witness to what we experienced during the peak of Boko Haram insurgency in our state but thank God that has now become history." he added.
The post Emir Sanusi wants stringent measures against unlicensed pharmacists appeared first on Vanguard News.