By Pastor William F. Kumuyi
Matthew 17:20 "And Jesus said unto them, Because of your unbelief: for verily I say unto you, If ye have faith as a grain of mustard seed, ye shall say unto this mountain, Remove hence to yonder place; and it shall remove; and noth-ing shall be impossible un-to you."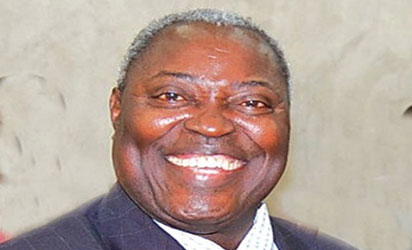 Jesus had to school his disciples, because they were curious and wanted to put that abysmal show of theirs, which was in the glare of the public, behind them.
The experience of mini-sterial failure did not sit well with the disciples of Jesus; and the only way that they could remedy that un-expected shock of surprise was to learn from the teach-er Himself, who at the snap of the finger got the job, the disciples failed to do, done.
Matthew 17:19 "Then came the disciples to Jesus apart, and said, Why could not we cast him out?"
In your life, you must have had the chance to ask the question 'why?'
I mean, you must have met with daunting life's challenges that failed to give way, after applying the right techniques; and all you could do in resignation was to let  the situation beg the question, 'why?'
Just like the disciples of yesterday, you too have put into practice some powerful prayer patterns in confront-ing that mountain in your life, family and job; and you wished that things were better, but things did not seem to come to shape as you would have liked. In despair, you began to ask yourself, 'why?'
That is exactly the same scenario the disciples found themselves.
Matthew 17:20 "And Jesus said unto them, Because of your unbelief: for verily I say unto you, If ye have faith as a grain of mustard seed, ye shall say unto this mount-ain, Remove hence to yonder place; and it shall remove; and nothing shall be impo-ssible unto you."
There are mountains that will take only faith to remove and there are moun-tains that practical love removes. Such mountains cannot be taken away, until love applies its' distinctive touch to the problem. That is why they say love is stronger than brute force; this is because there are mountains sheer brute force can never remove.
For instance, in a theatre of combat arena, where the greatest military might on earth is up against a rogue terrorist state; both sides will suffer some varying degrees of casualties, but, in spite of the military option, the intended problem (mountain) that provoked the fray will still not be completely wiped out.
That is because such a problem, which defies mili-tary solution, has deep-seated root that goes broad-er than initially imagined; likewise, there are mount-ains that will never go away by force.
For this purpose, we are going to take a look at the power of faith that moves mountains; and faith is greater and mightier than force.
Mark 11:22 "And Jesus answering saith unto them, Have faith in God."
Jesus advised His disci-ples to have faith in God, because it is the solution to a lot of problems bedevill-ing people in the world today.
Mark 11:23, 25-26 "For verily I say unto you, That whosoever shall say unto this mountain, Be thou removed, and be thou cast into the sea; and shall not doubt in his heart, but shall believe that those things which he saith shall come to pass; he shall have whatso-ever he saith.
And when ye stand pray-ing, forgive, if ye have ought against any: that your Fath-er also which is in heaven may forgive you your tres-passes. But if ye do not for-give, neither will your Fath-er which is in heaven forgive your trespasses."
The faith power, Jesus is addressing here, can only be launched by those who have genuine relationship with Him and the Father of glory. Such people are free from the sin of animosity, malice, bitterness and hatred in the heart.
Galatians 5:6 "For in Jesus Christ neither circum-cision availeth any thing, nor uncircumcision; but faith which worketh by love."
If you do not show love to your neighbours and you cannot find peace in your relationship with others, but you deem it fit to allocate time for the spiritual gymn-astic of fasting and prayer in order to remove that mountain in your life; then that exercise of yours will be worthless because with-out love and peace, faith will produce nothing except sheer impotence and weak-ness.
The wings of faith can only be stretched when love and peaceful coexistence is nurtured to the fullest ex-tent permissible in the community. Without that, the possibilities of faith will be limited.
Problems of life have a way of transforming into load of burden, which li-mits people from realizing their full potentials. Such a heavy load, depending on its' impact, may weigh down an individual, a family or even a country.
Jesus, in Matthew 17, had to address a difficulty in a certain family. Is there a problem or an insurmount-able difficulty stirring you and your family in the face? Then that is a mountain Jesus can handle.
Matthew 17:14-18 "And when they were come to the multitude, there came to him a certain man, kneeling down to him, and saying, Lord, have mercy on my son: for he is lunatick, and sore vexed: for ofttimes he falleth into the fire, and oft into the water. And I brought him to thy disciples, and they could not cure him.
Then Jesus answered and said, O faithless and perverse generation, how long shall I be with you? how long shall I suffer you? bring him hither to me.
And Jesus rebuked the devil; and he departed out of him: and the child was cured from that very hour."
No matter how long your difficult challenge may have been; it cannot outlast the delivering power in the name of Jesus. Take a look at your wrist watch: this very hour, the LORD has set you free. I declare you free in Jesus name.
Matthew 17:19-21 "Then came the disciples to Jesus apart, and said, Why could not we cast him out? And Jesus said unto them, Because of your unbelief: for verily I say unto you, If ye have faith as a grain of mustard seed, ye shall say unto this mountain, Remove hence to yonder place; and it shall remove; and nothing shall be impossible unto you. Howbeit this kind goeth not out but by prayer and fasting."
In handling the problem of that family, Jesus placed faith above prayer and fasting on the believer's list of priority. There is a lesson to be learnt here. If the Lord, who is all knowing and all powerful, says that faith should be the foremost stock on our spiritual shopping cart, then it is not optional, if we really want those life's problems to be removed.
The Lord also wants us to esteem faith more than our necessary food. But the believers of today, who long for their problems to pass away and their difficulties to dissolve, put more emphasis on food rather than on faith. They turn the table, regrettably, the other way round.
It is good to indulge in the exercise of moderate and scriptural fasting in order to afflict yourself for the greater good; but the fasting that brings physical injury, which destroys your body and life, is not advisable because it will make you to become useless. The recommended fasting is the kind that is spiced up with forgiveness and love in the heart; and not the type some people involve themselves in, which is laden with hatred and enmity in the heart against the people they call their enemies. Such kind will not produce the desired effect.
For that purpose, Jesus in Matthew 5:44 says, "Love your enemies, bless them that curse you, do good to them that hate you, and pray for them which despitefully use you, and persecute you."
As you take the right and proper doze of prescription, in this journey of faith, the Master has provided, no mountain shall be able to stop you from advancing in Jesus name.
In spite of that, the devil, who is our avowed enemy, has discovered a mountainous heap designed to knock off some believers from their prestigious position of place. That mountain is known as discouragement. He moulds it into a mass of pile of problem that blurs the visions of many who are vulnerable in their most trying times; and before long it drains out their faith.
In view of this, many ministers have thrown away their calling; housewives have packed out leaving behind various privileges in their family; children have fled their homes abandoning their parents; others have decided against joining the fellowship of the believers.
The truth is the mountain, called discouragement, has a way of inducing some people, thereby making them to forget the great plan programme, promises and privileges God has for their lives.
Today, nevertheless, we are going to remove all the mountainous terrain discouragement brings in the lives of people in Jesus name.
Numbers 21:4 "And they journeyed from mount Hor by the way of the Red sea, to compass the land of Edom: and the soul of the people was much discouraged because of the way."
That was the greatest dream fulfilling journey the children of Israel have ever embarked upon in the long stretch of their history as a people. The noteworthy journey of a lifetime signalled the end of slavery and captivity from Egypt to a boundless life of blessedness and breakthrough in a land of freedom and fruitfulness.
But because of difficulties along the way to their promised bliss, the whole nation, in the brink of a milder dangerous situation, forgot all about the greatest series of testimonial deliverances they enjoyed in the hands of Pharaoh and their Egyptian oppressors. They gave in to discouragement, which made them to forget the delight and joy awaiting them in the promised land flowing with milk and honey.
Discouragement is like a mountain standing before many people on their way to fulfilling their God given potential and destiny. It is a major tool in the armoury of Satan, which he deploys as last resort against people who have been firm, stable and dependable in trying times of raging temptation of great magnitude. When discouragement comes, these people, who have been strong against harrowing temptations, collapse like packs of cards.
It appears this mountain called discouragement has destroyed many more people than even the other infamous sins believers have been overcoming; but, as for us, we will break that barrier and move on, because we know the trick of the devil. I say we are moving on.
I believe you can still remember the bravery put up by the young courageous lad David before the mighty terrifying champion of the Philistines, Goliath, on the battlefield, as he enchanted and evoked fear in the hearts of the soldiers of Saul. But a time came in his life when discouragement would have defeat him, because champions are defeated when discouragement comes.
1 Samuel 30:6 "And David was greatly distressed; for the people spake of stoning him, because the soul of all the people was grieved, every man for his sons and for his daughters: but David encouraged himself in the LORD his God."
David got out of that predicament of discouragement because he encouraged himself in the LORD by reciting to himself those famous Psalms of his.
My brother, whatever the situation, condition, distress, storm, wind, discouragement, voice, noise or thunder that may come your way; to overcome, you have to stand still and let the LORD clear the cloud and quail the raging storm on your track to breakthrough, because it is only God that can effectively defeat the devil and his antics.
Mountains come in different shapes and sizes. At times, the mountain that oppress you can be as a result of the debt you owe, which can be quite suffocating as you begin to imagine the options available.
1 Samuel 22:2 "And every one that was in distress, and every one that was in debt, and every one that was discontented, gathered themselves unto him; and he became a captain over them: and there were with him about four hundred men."
The men that came to David, their lives were marred with three notable words: distress, debt and discontented. They were so perplexed with life's problems piled up like mountains that the only available alternative left for them was to come to David who, because of his sterling quality as a national hero, had the potential of stirring them out of the wind of chaos. Just like David, Jesus Christ the Son of David, has the power to deliver you from all your debts, if only you will recognise that bit and come to Him and accept Him as your Saviour, He will have mercy on you.
Proverbs 22:7 "The rich ruleth over the poor, and the borrower is servant to the lender."
Debt is a great mountain, especially when you owe so much and lack the means to setoff the burdens that comes along with it. It turns the debtor into becoming like a slave under captivity. And every time the borrower thinks about the huge load of debt on his neck, hanging like a noose, or sees his creditor approaching, his heart will almost fail him, because of guilt and uneasiness.
The trauma of indebtedness goes beyond emotional anguish because debtors are also stripped of their basic necessities of life by those who have the ability to inflict such damage.
Proverbs 22:26-27 has this to say "Be not thou one of them that strike hands, or of them that are sureties for debts. If thou hast nothing to pay, why should he take away thy bed from under thee?"
Though the chains of indebtedness are not easily broken, yet Jesus has the power, with a single act, to shred in pieces all the years the painful ruins of debt burden may have brought to your life and family. Thank God for Jesus!
Psalms 102:16-17 "When the LORD shall build up Zion, he shall appear in his glory.
He will regard the prayer of the destitute, and not despise their prayer."
The LORD will hear your cry of anguish and He will appear on your behalf to roll away all these mountains today, because they are empty noise before Him. Your life will be free and your family too.
2 Kings 4:1 "Now there cried a certain woman of the wives of the sons of the prophets unto Elisha, saying, Thy servant my husband is dead; and thou knowest that thy servant did fear the LORD: and the creditor is come to take unto him my two sons to be bondmen."
This woman was a widow and her husband was a servant of God and an acquaintance of Elisha, the man of God with the anointing of a double portion.
Her late husband left behind a great debt, which he could not erase. Thus, when the creditor arrived demanding of his money, the poor widow could not offer it so he decided it way time to take her two sons as slaves for his arrearage.
2 Kings 4:2-3 "And Elisha said unto her, What shall I do for thee? tell me, what hast thou in the house? And she said, Thine handmaid hath not any thing in the house, save a pot of oil. Then he said, Go, borrow thee vessels abroad of all thy neighbours, even empty vessels; borrow not a few."
Her troubles lead her to the prophet of God who asked her to continue with the borrowing spree, the very same escapade, that got her husband into the messy condition her family cannot seem to handle.
If the widow woman was to listen with her ears, she would have told the prophet of God that her background of the past is so scary that she cannot afford to dream of walking on the same turbulence twice; but she listened with her heart and got the deliverance.
Sometimes when you have passed through terrible pains in the past, occasioned by man made mistakes, due to the lessons learnt the hard way, you would not want to let history repeat itself, even if a well known man of God advised you to take that same option.
At times, life is a paradox: what gets you into trouble can be what will take you out of trouble. Joseph is another case study. His brothers sold him into servitude because of his dreams, but it was the interpretation of the dreams of Pharaoh that placed him on the world stage.
You may have got into trouble as a preacher, yet it is the same act of preaching the word of God that will literally get you out of that situation.
May be you are a counsellor out there and counselling got you into trouble; do not worry; it is the same counselling that will pull you out of that mess. Are you a singer and you have sung, but it has got you into an unbelievable situation that people are now deriding you. Give it another try and you will be celebrated because life is a paradox.
Do not let your problems bind you from showing love to others, because love has a way of replenish itself. And as you pour out the little keg of love inside of you to others, God will bring you out of that problem.
2 Kings 4:4-5 "And when thou art come in, thou shalt shut the door upon thee and upon thy sons, and shalt pour out into all those vessels, and thou shalt set aside that which is full. So she went from him, and shut the door upon her and upon her sons, who brought the vessels to her; and she poured out."
When an entire family decides to team up to tackle the problem laying siege on them, it becomes easier and quicker to solve. Hence, the children should also get involved in tackling family problems because they too are part of it.
2 Kings 4:6-7  "And it came to pass, when the vessels were full, that she said unto her son, Bring me yet a vessel. And he said unto her, There is not a vessel more. And the oil stayed. Then she came and told the man of God. And he said, Go, sell the oil, and pay thy debt, and live thou and thy children of the rest."
This mountain of debt hanging on your neck, I cut it off from you in Jesus name.
You will begin to enjoy rest and peace in your soul and in your family right now, because they are going. You are not made by God only to be left for mountains to oppress you. You are bigger than that situation. You are not made for debts to weigh you down nor for the devil to toss you back and forth with his agents of discouragement and debt.
Your heart is not made for burdens, but for the LORD. Cast your burdens upon Him right now and see the salvation of God take place in your life, family and ministry. I say stand up and get your confidence back up again, because you are at the right place and today is the right time to overpower your adversary.
The post Faith Power that moves Mountain appeared first on Vanguard News.