By Victor Ahiuma-Young and Ochuko Akuopha
…Disengage yourself as Petroleum Minister, NANS tells Buhari
… Says DPR's sealing of filling stations, sheer hypocrisy
AS it appears there is no end in sight to the acute fuel scarcity across the country, Organized labour yesterday threatened civil disobedience should the Federal Government fail to find immediate solution to the protracted shortage of premium motor spirit, PMS.
Also, the National Association of Nigerian Students, NANS, Zone B, has told  President Muhammadu Buhari to disengage himself from the Ministry of Petroleum Resources as Minister, following the lingering fuel scarcity in the country.
It held that "Buhari's pseudo heading of the Petroleum Ministry has presented uncertainty in the petroleum industry, and we therefore call for a substantive Petroleum Minister."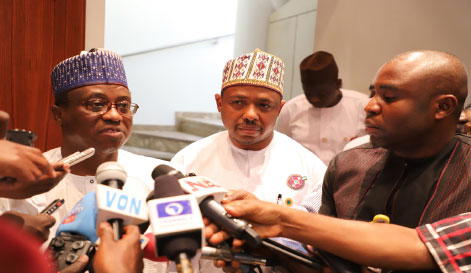 This came as Labour commended the President of the Senate, Dr. Abubakar Bukola Saraki, for directing the Senate Committee on Petroleum Resources (Downstream) to cut short its recess and immediately convene industry stakeholders meeting in a bid to end the ongoing fuel crisis which has imposed hardship on the citizens.
It will be recalled that Dr Saraki had Thursday directed the Senate Committee on Petroleum Resources (Downstream) to cut short its recess and immediately convene industry stakeholders meeting to find solution to the ongoing fuel crisis with its attendant hardship on the citizens.
Speaking through a member of the National Executive Council, NEC, of Nigeria Labour Congress, NLC, and General Secretary of National Union of Textile, Garment and Tailoring Workers of Nigeria, NUTGTWN, Comrade Issa Aremu, Labour insisted in Kaduna that  the protracted fuel crisis was a reflection of "crisis of corporate governance in the petroleum sector".
According to him: "The bane of down stream sector is abysmal absence of accountability, transparency and openness in the administration of the petroleum resources of Nigeria, adding that only the parliament can make a difference in exposing the rot in the sector.
"We therefore urge that the legislators demand for consequences for the actions and inactions of petroleum  sector operators in the product shortage scam. There is a deep seated conflict of interest in the downstream sector; regulators are  operators, regulators are importers, importers are products hoarders, regulators are also saboteurs, definitely we have a sector capture in our hands, Nigeria and Nigerians need liberation."
Comrade Aremu who is also the Vice President of Industrial ALL Global Union, African Region, argued  that "NNPC is the only public corporation that annually awards its directors long service incentives for no service at all, for non-functioning refineries. We call for a total ban on  importation to reinvent domestic refineries and beneficiating to crude oil.
If the intervention of the legislature fails to put an end to product shortages, labour may compel all Nigerians to return to street protests like in the past to force the ruling elite  to face up to the challenges of governance of the most populous promising but badly governed country in the continent. The one month long fuel shortage has further worsened poverty, puts productivity on hold. We dare not enter 2018, new year with this recurring old mess."
Meanwhile, United Labour Congress of Nigeria, ULC, has expressed concern that it is becoming a practice for government, and marketers to foist fuel scarcity on the citizens every December especially during the Yelutide.
Speaking through its President, Comrade Joe Ajaero, ULC said : "It is truly worrisome that at this time every year, Nigerians are allowed to go through this harrowing experience because those that ought to realise the exponential increase in movement across the length and breadth of this nation as the citizens relocate in celebration of the season and its subsequent implications for demand on domestic fuel consumption did not take adequate measures to ensure that the gap that would be created will be filled by increased supply of the product to the market.
"It is indeed surprising that a Government that raised the pump price of petroleum products especially PMS to N145/litre with the promise never to allow the return of fuel queues is sitting on its rump and giving excuses why the same queues have returned with a vengeance. We believe that there is no excuse strong enough for this Government to give over this worrying situation. Government should fulfill at least its side of the bargain.
That is the only way to go. It is even worse trying to deflect the blame and push it on the unions in the sector which is not true as this truly shows continuous disrespect for the citizenry that elected these same leaders into office.
"This is not the kind of end of year gift that Nigerians deserve. Leaders in other climes give their citizenry end of year gifts by passing legislations and enacting policies that would ease their burdens but not so in Nigeria. We hope once again that this is not a prelude to the 2012 gimmick as giving Nigerians sorrow and bitterness during this period has become the sole aim of our various governments. We believe that Nigerian workers and masses deserve a better treatment than these excuses with ominous portends.
"We urge all Government agencies involved in enabling product availability in the country to move very fast and bridge the supply gap either by importing more directly, or making FX available to Importers to bring in more or the more sensible approach of ensuring that our local refineries ramp up production to increase supply internally.
NAN to Buhari
The zone,  in a statement by its Coordinator, Comrade Pedro Obi, said: "Nigerians have been made to pass through untold hardship for a fault that is not theirs, with conflicting and counter directives emanating from the top hierarchy of the petroleum industry.
"Blaming filling stations/petroleum marketers is being ignorant of realities, as our team of petroleum monitoring task force, has found out that Premium Motor Spirit, PMS, is being sold at high rate in depot and you can never expect somebody to sell less than his/her cost price.
"Department of Petroleum Resources, DPR moving to seal filling stations is sheer hypocrisy, as to us, if they are serious about controlling the price of the product, they should go to the petroleum depots where these private filling station owners lift product.
"Nigerians have been deceived, stolen dry and the various promises of reform in the industry has turned into a mirage as a result of nepotism occasioned by an incompetent manning of the industry.
"Dr. Ibe Kachikwu, has not been given free hand to carry out his laudable plans for the sector. It is on this note, we call for the upgrade of Dr. Ibe Kachikwu as the substantive Minister of Petroleum Resources.
"At this point of our nationhood, if truly Buhari means well for the suffering Nigerian masses, this is surely the irreducible minimum demand, President Buhari can give to Nigerians, if he actually means well for us."
The post Fuel Crisis: Labour threatens war if… appeared first on Vanguard News.