Ayuba Alamson, the man who brought Ali's case to GIPLC's attention, in this interview, says he had once approached the body to look into his own case but the organization replied that they only deal with children. Excerpts: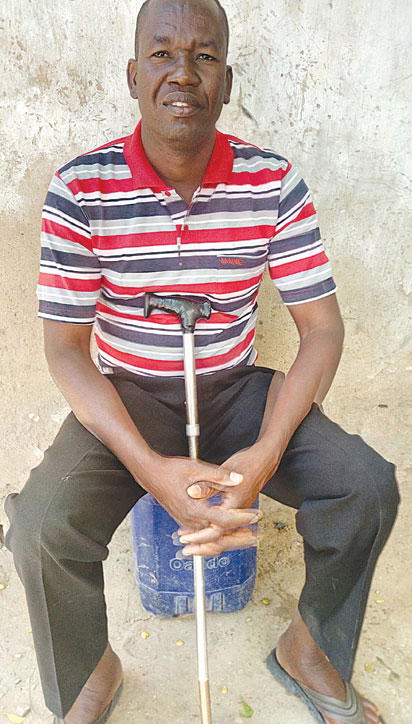 I learnt that you are the person who brought Ali Ahmadu's case to the limelight. How did the story start?
I have been suffering from visual impairment and spinal cord injury for the past 12 years. One day I was returning home after an outing when I overheard three women discussing about the two-year-old son of their relation who had spinal cord injury. I immediately remembered what I was passing through.
The following morning I went to the compound to ask the women to tell me what really happened to the boy they were discussing the previous day. One of them explained to me that her twin sister's son was injured when Boko Haram raided Chibok on November 13, 2014.
I asked how the incident happened, she said   everybody were fleeing, so the mother and her children were also running and the militants followed them and hit the boy with a motorcycle and drove it over his back. According to her, the motorcycle broke the boy's spinal cord. The story touched me knowing what I am passing through. I cannot sit well.
I cannot walk well and I couldn't imagine how a two-year- old boy would suffer similar ailment. I told the women I wanted to talk to the parents of the boy because my own issue had opened my eyes to many things about spinal cord injury.
I asked them to give me the mother's numbers so that I could speak with her but they said the boy would not survive, so there was no need to waste money calling her. But I insisted that "as far as somebody is alive, God has a means of doing something".
Maybe they were thinking too that you could not have helped the boy because you couldn't help yourself.
They were sympathetic to my own situation as they said "you are not well and you don't have the means of helping yourself, how would you help others?" I said God has many ways of doing things. For over three years I followed them but they wouldn't give me the boy's mother's number.
I then called somebody in Chibok to link me up with the parents and the person succeeded in doing that. I spoke with the mother. I then demand to speak to the grandfather who is mature enough and somebody who is learned in the family. The grandfather said, "If there is anything you can do for his story to be spread around to the world so that he can get help, we would be grateful. If you like come and take him."
After the discussion, I called somebody who is familiar with the people who sponsored the boy's treatment treatment, Global Initiative for Peace, Love and Care. I had approached the organization concerning my case before.
When I contacted them, they said they only assist children, so I still had them in mind that there are angels that help. After I got all the information concerning the boy, I discussed with them and they told me they will call me back as they were in a meeting. After four days they called me back to say since they could not help me, they would help the young boy.
I had applied for the US visa concerning my situation but I was not granted the visa because l had to money for medical bill. I was still at the embassy's gate when l got a call from the charity organization asking where l was. I told them and they sent a driver to pick me up.
Limelight
After we deliberated, they taped my statement and said they would they see the boy. From there I left Abuja en route to Chibok. When I reached Chibok, I was very tired because of the long journey and considering my condition but I saw the boy with my own eyes. We took pictures and videos which we sent to the Global Initiative for Peace, Love and Care email address.
When they got the pictures and videos and saw that it was real and the boy was at the point of death, I was told to take the boy to the University of Maiduguri Teaching Hospital for diagnosis. We immediately departed Chibok but when we got to Maiduguri it was late. The following morning, we went to the teaching hospital and they admitted him.
After diagnosis, it was discovered that the boy's spinal cord had a severe damage and they could not operate it there. So it was left for us to look for alternatives. I said I had contacts in the US and other countries due to my experience as a spinal cord injury victim.
My own case was lack of funds. I called the NGO in Abuja and told them the outcome. I scanned the result and send it to them. They sent the result to different hospitals and finally a hospital in Dubai picked interest in treating him.
So they informed me and told me to bring the boy to Abuja. But later they asked me to get one person from his family who could go with him. I got one of his aunts who agreed to go with him. So they sent two flight tickets to me for Ali and the aunt. I called my friend in Maiduguri to come and help me convey the boy to the airport.
He said he did not fuel and I had to source for N2, 000 to fuel his car and then he conveyed us to the airport. We were communicating until they called me to say people had started donating for the treatment of Ali and they would take him to Dubai. On the day they were to leave Abuja for Dubai, they called me that they were at the airport.
The following morning, they called me to say they had arrived Dubai safely and that the doctor had commenced work on him. We kept communicating and they kept on giving me updates until when Ali was operated Ali successfully.
But there was no mention of your efforts?
Actually, I was not there and it is possible they must have talked about me but you know those people who have been seeing the pictures and the videos did see me there. I listened to an interview when Good Morning Nigeria was trying to describe the whole thing, they said information about Ali came to the Global Initiative of Peace, Love and Care through someone but they did not mention my name.
In other countries, seeing people like me, who is physically challenged or disabled and was able to stand up and do something like this, people will accord me that honour but l know God will raise somebody that will take up my case.
The post God will send me a helper because I helped Ali – Alamson appeared first on Vanguard News.