By Chris Onuoha
The Very Reverend Monsignor Sylvester E. U. Osigweh is the parish priest, St. Mary's Catholic Church, Alaja-Ifo, Ogun State. He is also the Spiritual Director of Jesus is Love and Power Catholic Healing Ministry.   He is known as the father of Catholic Charismatic Renewal Movement and also runs a hospital that attends to indigents.
Besides, Ifo, where he resides, has benefited immensely from his corporate citizenship gestures which have seen road grading and construction of bridges leading to Alaja Seriki Road in Ifo local government area. He also built a potable water outlet for the community while many students were trained by him.
Osigweh has been an inspiration to many priests ordained after him, some of whom are bishops now. He also trained and saw many priests through school and pastoral works. Archbishop Adewale Martins of Lagos Metropolitan See, among others, holds Osigweh in high esteem. He was Martins spiritual mentor when he headed the Abeokuta Diocese and a hall in his name was dedicated to him at Ifo Parish.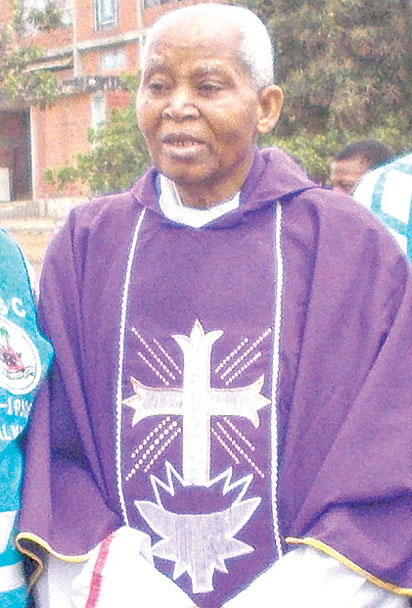 As Osigweh marks his 40 years of priestly ordination, he reminisces on the journey so far.
The beginning
My pastoral journey from the beginning was not an easy one, but I thank Almighty God whose mercies have been the source of inspiration and sustenance. I grew up as a mass servant in the Catholic Church to the Legion of Mary.
Having discovered that the secular lifestyle was not meant for me while working in Lagos, I made a U-turn and decided to enrol to study philosophy and theology at SS. Peter and Paul Major Seminary Ibadan for my priesthood training.  After my graduation from the seminary college, I was ordained as a priest in 1977.
My ordination came at a time when priestly vocation was very scarce, although I was not happy then because the ordination was carried out at the Oba's palace in Abeokuta instead of a cathedral. All the paraphernalia associated with ordination was not adequately observed. That, to me, was a challenge and a test of faith but my ordination was a blessed one.
From there, I went to St. Mary's Catholic Church, Ajegunle, Apapa to celebrate my first mass, and I continued in prayer since it is my volition. As prayer became an inevitable thing for me, I waxed in spirituality which gave birth to the Charismatic Renewal Movement in Lagos at that time.
I served in several parishes in Lagos and Ogun states before proceeding to Rome for my master's degree in theology. The parishes include St. Leo Catholic Church, Ikeja, St. Agnes, Maryland, SS. Mulumba & David Cathedral, Ikate, Surulere and Ibowon Parish in Epe Division. I was overseeing the Eucharistic Heart of Jesus (EHJ) Sister's Juniorate and Epe Military Battalion as Chaplain. Before I left Ibowon Parish in 1985 for Rome for further studies, the passion for healthcare services through prayer and sacramental healing process grew. Many people with various problems came for counselling and healing. I was able to sanitize the Ibowon town known to be infested with fetish shrines with fervent prayers.
The Rome odyssey
My journey to Rome for further studies was not an easy one. There were scarce resources and I couldn't get much help from the Archdiocese of Lagos but I thank God for the Vatican and some good Samaritans in Nigeria that took care of some of my expenses in Rome. Later on, I got to understand that the challenge in getting assistance within was born out of my desire to healing the sick through prayer, sacramental and evangelism which was frowned upon by the Archdiocese.
But I owe it to God who made it possible because my fervency in prayer was the hallmark of everything I did and still doing in God's vineyard today.
In Rome, some Vatican officials who discovered my keen interest in prayer, healing and evangelism began to recommend books to me to help perfect the cause. They encouraged and sponsored me to the Special College of Pastoral Theology of Healthcare and Evangelization at Camilianum International Institute, Rome, and later the St. John's Pontifical University Lateran, Rome for my double master's degrees in theology.
Other people also facilitated my exposure to healing such as Bishop Wagner who was in charge of 'Co Unum' Caritas in Rome, the late Bishop Anthony Nwedo of Umuahia Diocese who gave me a letter of authority to profess to a sick sister in Rome.
Many people who had problems of different kinds came to me for prayers. Besides, Cardinal Onaiyekan, who resided in Vatican then, was a witness as he once approached me while I went to the Vatican upper chamber on one of my routine assignments. Thereafter, my fervency in prayers and spiritual healing became known. I became a health consultant and God used me mightily among the people in Vatican.
However, that did not go well without challenges as I came under scrutiny by the authorities in Vatican which had negative insinuations that the practice was wrong. But to God be the glory, all these services were for mankind and not for personal gains. A lot of cases came up which I treated within Vatican and that was how many people got to know about me.
I was called upon to handle the ill-health of Cardinal Ekandem and that really closed the mouth of everybody. I also treated some Italians who had health issues via Vatican recommendation and the son of the Paraguay ambassador to Vatican who I treated.
After my master's degree in Rome, some other challenges ensued which deprived me of the opportunity of doing my doctorate programme but I thank God for using me within Vatican and exposing me to a vocation that has helped mankind today.
There is a book I published to that effect titled: "Healing Ministry and Evangelization in Nigeria", an exposition of the general character and influence of healing in the evangelical procedures applied at different ages.
The book talks about Jesus' use of healing ministry in the promotion of faith and protection of life in the field of evangelization. It further explains the use of sacraments and sacramental which are the practical instruments of evangelization.
The 40th ordination anniversary
It is God's achievement. If it were to be a man, it could have been a failure because it is with hard labour, difficulties. I have never heard or seen someone else who had it as I did. That is why I say it is God's wish and not by any man's strength.
Some people here in the country could not believe I was able to survive what I went through to reach this stage. That is why some of them are very happy and those who assisted me to reach this stage.
The post I came under Vatican's scrutiny for promoting healing ministry – Very Rev Monsignor Osigweh appeared first on Vanguard News.