… 'God will send somebody that will take up my case'.
By Favour Nnabugwu
The story of Ali Ahmadu, child victim of Boko Haram, is captivating. Ali Ahmadu is one of the survivors of insurgency in the North-East. Caught one of the militants' raids on November 13, 2014, the pregnant mother was too frightened to wait not to talk of safeguarding the life of her son in the chaos, and the unexpected happened!
Ali was run over by three Boko Haram members riding on motorcycle (Okada). When the dust settled, he had lost his spinal cord among other injuries.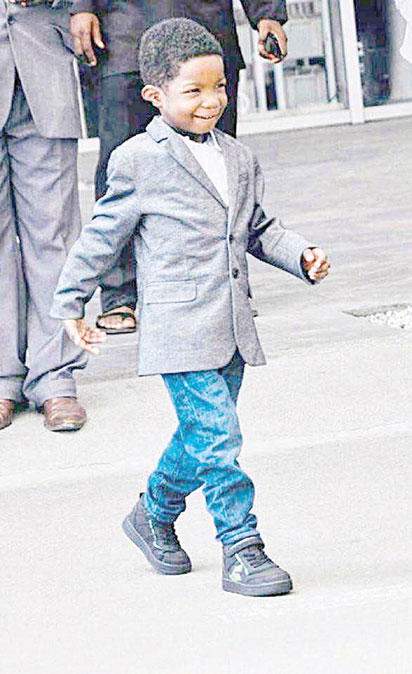 He was just three years old. But the story of how Ali got to Global Initiative for Peace, Love and Care (GIPLC) was almost buried. An adage says only those who experience poverty can define it better.
This was the case of Ayuba Alamson, 41, and a native of Chibok, Borno State. He was passing by three years ago when he overheard three women discussing Ali's pathetic situation. He took it upon himself to trace the boy's parents and then linked the family up with GIPLC. The charity organization took up the case for the restoration of Ali.
But there was little or no mention of Alamson's efforts after the boy left for Dubai for corrective surgery and returned. The surgery was successful.
The boy, who was wheeled onto the plane on September 10, 2017 en route to Dubai, the United Arab Emirates, for the life-changing surgery, walked out of an Ethiopian Airline flight at the Nnamdi Azikiwe International Airport, Abuja on Monday, December 4, 2017 unaided. Ali, who was dressed in a grey blazer, a white shirt and a pair of blue jeans, thrilled the crowd at the airport by walking briskly.
Basking in the euphoria of the new lease of life, he said in Hausa, "Lafiya lao" (I am fine. Thank you). When asked what he would like to become in future, he replied: "I want to be a policeman. I want to save people from harm." Ali was accompanied on the return journey by his aunt, Hannatu Madu; the Coordinator of GIPLC, Mr Nuhu Kwajafa, and representatives of Dickens Sanomi Foundation, sponsors of the medical trip.
'From journey of pain to journey of hope'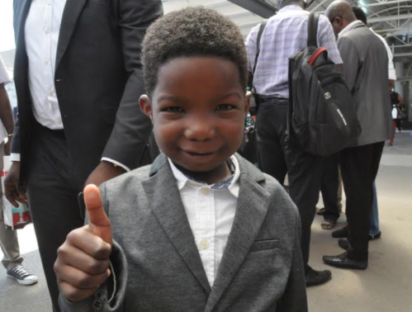 The Chairman of Dickens Sanomi Foundation, who doubles as Chairman of Taleveras Group, Mr. Igho Sanomi, said, "What started as a painful journey for little Ali after his Boko Haram attack in Chibok, four years ago that confined him to a wheel chair, has transformed into a journey of hope, love and care. Dickens Sanomi Foundation will be working with Ali's family, through GIPLC, and will be supporting Ali's post-surgery life as we help him settle into Abuja to grow as a child with love and care.
"I am authorised to announce that an educational scholarship will be provided for Ali, until he gets to university, by the Taleveras Foundation."
Recalling his passion for Ali' situation, the Coordinator of GIPLC, Kwajafa, said: "About four years ago, in a small village at Chibok Local Government Area of Borno State, a toddler, named Ali Ahmadu Chibok, fell victim to one of Boko Haram's murderous invasions.
"That fateful night, he suffered excruciating pains all over his body brought upon him by the senseless marauders. They crushed everything/everyone in their path, severely damaging his still forming vertebral column in the process, but the hand of God preserved Ali.
"He was immobile and fast deteriorating, physically and mentally, from that period till the first quarter of this year, 2017, when Global Initiative for Peace, Love and Care made contact with him.
The organisation facilitated the relevant examinations and digital/lab tests for assessment and proper medical attention. The results revealed that he couldn't access the quality care required, hence the decision to make arrangements to fly him abroad.
"After duly assessing the options open to us from all over the world, we resolved to take him to the UAE. He was treated in Zulekha Hospital at Sharjah, Dubai. The medical bill was initially $48,000 but after the surgery, there were some complications and there was an additional $15,000 bill.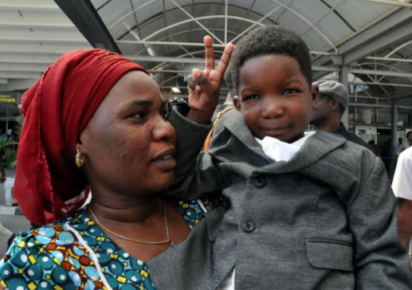 "We left Nigeria on September 10 and landed in Dubai on the 11th. He was wheeled into the hospital on the 12th and, after proper diagnosis, it was agreed that Ali needed to go for surgery as soon as possible. Fortunately, today happens to be Ali's 6th year birthday which the Initiative is celebrating with over 2, 000 orphans in Abuja.
"We have been running a charity organisation for the past 11 years where we reach out to kids who can't pay medical bills and we have so far been able to raise over $4 million for children".
On her part, Ali's Aunt, Hannatu Madu, expressed her joy in an emotion-laden voice, saying she could not have believed that Ali could survive his travails not to talk of walking again.
"We never believed he was going to survive not to talk of walking. This came to us as a miracle and we are grateful to the NGO and Nigerians for their prayers", she said.
The post I stood up for Ali Ahmadu, man with spinal cord injury who took child's case to limelight appeared first on Vanguard News.