BoT chair praises Atiku, says he behaved better than Obasanjo who tore his membership card
By Dirisu Yakubu
ABUJA-The Board of Trustees (BoT) of the Peoples Democratic Party, PDP yesterday dashed the hopes of advocates of micro-zoning saying that all those interested in the contest for the office of national chairman should be allowed to vie for the office.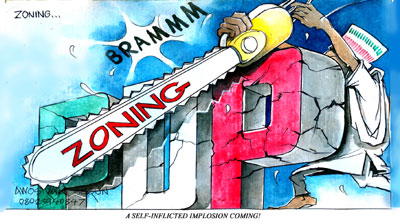 It was a big blow to the camp of associates of former President Ibrahim Babangida who had been clamouring for the micro-zoning of the office of national chairman to the Southwest.
Briefing journalists yesterday in Abuja, the chairman of the BoT Senator Walid Jibrin also welcomed former Vice-President Atiku Abubakar for returning to the party saying that he behaved better than former President Olusegun Obasanjo who tore his PDP membership card on leaving the party.
"The BoT believes that it is too late to micro-zone the position of national chairman considering that after more than eight aspirants have purchased the forms and are right now about to be screened by the Special Screening Committee; they should be allowed to test their fame through the primaries that is about to start on the 9th-10th December 2017," he said even as he called on former members of the party to follow the footsteps of ex- Vice President, Atiku Abubakar and rejoin the party.
"As the party joyfully welcomes Atiku back to his home, the PDP, we are equally waiting to receive more members of the APC including Senator Musa Kwankwaso, Senators and Members of the House of Representatives, President of the Senate, Senator Bukola Saraki, APC Governors who had earlier left the PDP.
"APC should remain grateful to Atiku Abubakar for peacefully resigning and with respect without tearing his party membership card unlike our former President, Chief Olusegun Obasanjo (who) after ruling Nigeria under the PDP for eight (8) years and after serving as the chairman of the BoT for about two years, disgracefully tore his membership card
The post IBB's associates outfoxed as PDP BoT rules out micro-zoning appeared first on Vanguard News.