Lionel Messi remains "the best player in history" regardless of what Real Madrid's Cristiano Ronaldo may say or do, claims Barcelona spokesman Josep Vives.
After landing the 2017 Ballon d'Or, Ronaldo boldly declared himself to be the greatest player of all-time. Those claims are backed up by five world player of the year prizes – a tally which places him alongside eternal rival Messi. Barcelona, though, refuse to believe that anybody compares to their Argentine talisman, with there no doubt in their mind as to who stands at the pinnacle of the global game.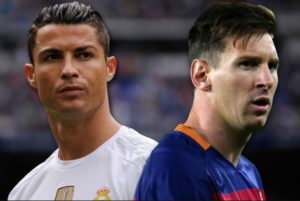 "Respect to the Ballon d'Or and to Cristiano Ronaldo," Vives, spokesman for Barca's board of directors, said at a press conference.
"We have always considered him a great player and a great competitor.
"But here at the Camp Nou, we can see the best player in history every 15 days, which is Messi."
Barca have already addressed the issue of Messi's future this season, with the 30-year-old forward having finally committed to a new contract through to 2021.
The post Messi better than you, Barca tell Ronaldo appeared first on Vanguard News.