By Dayo Johnson
Akure—Nigerians, moved by the plight of a baby, Temitope Omotoso, and mother, Taiwo, that were detained over N40,000 bill by Ondo State-owned Mother and Child Hospital, began donating money to offset the bill, yesterday.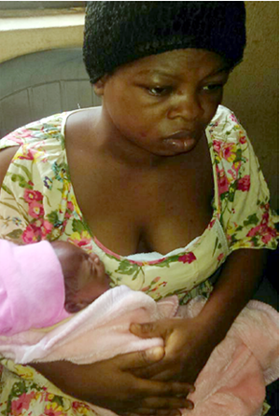 Mother and child were detained at the hospital in Akure for 22 days and had to sleep on a chair.
First to get in touch with Vanguard's office in Lagos after reading the report was a man from Warri in Delta State, who sounded like a preacher but preferred to be anonymous.
He later told our correspondent in Ondo State that he was moved by the plight of the family and promised to defray the debt of N40,000.
The spirited Nigerian asked the father of the baby girl to send his account details and that he would send a cheque covering the exact amount he is owing the hospital.
A church intervenes
Also, the President, World Care International Ministry, in USA, Olajide Animasaun, yesterday, donated N20,000 to Oladapo, the father of baby Temitope.
Animasaun said he also read about the sorry story of the detained baby and the mother for their inability to offset their hospital bill after a caesarean section.
The money was presented to Oladapo at Vanguard's office in Akure, the Ondo State capital by the Church's representative in the state, Jimoh Esan.
Olajide Animasaun said: "The story of this family touched the hearts and soul of members of World Care International Ministry.
"There is no reason why a new life should undergo such ordeal of waiting in the hospital for days, instead of being celebrated and received joyfully by the members of the parents' families.
"At World Care, we care about life and believe that God gives life for a divine and specific reason. We hope that this family situation stirs up the godliness in us to help others as God enables us.
"Only God knows how many families undergo such an ordeal. It is my hope and prayer that the government of the day will do more to help the needs and the less-privileged in the society. Give an helping hand today and God will bless your labour of love."
A father's gratitude
Responding, the baby's father, Oladapo, appreciated both donors and prayed that God will continue to enrich them.
He said he is an ICT technician, but had to engage in Okada operation to feed his family of four, including the new arrival.
Oladapo said he was surprised that some Nigerians were moved by his plight and decided to help him pay the debt.
The post Nigerians rescue baby, mother detained in Ondo hospital over N40,000 bill appeared first on Vanguard News.