JOS—THE Governor of Sokoto State, Aminu Tambuwal, has said the 19 northern states of Nigeria are not afraid of the proposed restructuring of Nigeria.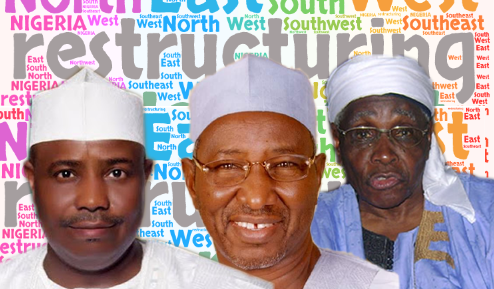 Tambuwal stated this Monday in Jos, Plateau State, at the annual Law Week and memorial lecture by the Nigerian Bar Association, NBA, Jos Branch for Justice Dauda Azaki, who died 20 years ago.
His position came barely a week after Borno State Governor, Mr. Kassim Shettima, dismissed the clamour for restructuring at the launch of the book written by National Publicity Secretary of All Progressive Congress, APC, Bolaji Abdullahi, in Abuja.
"I can confidently say here that we in the northern part of Nigeria are not afraid of restructuring," Mr. Tambuwal said.
The governor, who was former Speaker of the House of Representatives, said contrary to insinuations that northern Nigerians were opposed to restructuring of Nigeria, stressing that those saying so were merely raising a false alarm.
Governor Tambuwal noted that northerners were not afraid of the economic implications of restructuring, stating that most states in the north had enough mineral deposits to be self-sustaining.
Similarly, the Governor of Bauchi State, Mohammed Abubakar, said restructuring was a welcome development as long as the proposed restructuring would not ignite rancour in the country.
The governor urged that Nigerians  be properly educated on the issue to allay fears among some of them.
On his part, the Plateau State Governor, Simon Lalong, however, called for caution on the issue, adding that the agitation for restructuring almost caused the country another round of unrest.
"A misunderstanding of the concept of restructuring among the younger generation has also undoubtedly given rise in some quarters to the provocative and inciting calls for secession and the dissolution of the Nigerian state," he said.
Lalong said while he supported the policy of restructuring, he, however, lamented that some of the agitations for restructuring had veered into hate speeches.
In his remarks, chairman of Jos branch of the NBA, Ralph Monye, criticised the prosecution of some judges in Abuja for alleged corrupt practices.
"I had strongly condemned that despicable act and in solidarity with their Lordships, I had predicted that the Judiciary, which seemed at that time to be under intense fire would surely come out unscathed.
The dust has since settled and mist of the judges have since resumed in their places of primary assignments,'' he said.
Monye said practitioners of other professions were not being questioned for doing wrong, and called for the prosecution of some security operatives for inhuman treatment of citizens.
The post North not afraid of restructuring, says Tambuwal, others appeared first on Vanguard News.