By Daud Olatunji
ABEOKUTA— Former President, Chief Olusegun Obasanjo yesterday condemned what he described as 'dehumanising and undignifying' slavery in the 21st century in Africa.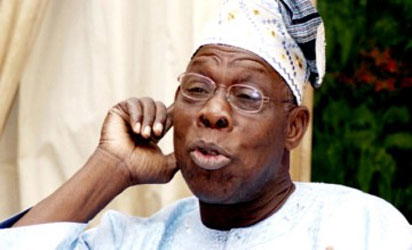 Obasanjo, who was apparently referring to the resurgence of the slave trade in Libya, expressed concern that slavery had reared its ugly head.
He said the trend deserves to be condemned "in the strongest language possible."
Obasanjo spoke at the opening ceremony of the 2017 Annual Conference of the Comptroller General of Immigration of the Nigerian Immigration Service (NIS) held at the MITROS Residences in Abeokuta, Ogun State.
The conference is tagged: 'Managing Migration and Facilitating Trade and Development in 21st Century Nigeria: NIS' Perspective.'
He insisted that African leaders "must feel a sense of regret and have a sober reflection on what we have done or what we have not done to bring this about to our own people."
He said: "I believe that slave trade in the 21st century should be condemned in the strongest language possible and nobody who is involved in it should be excused."
What can we do and what must we do? We must ensure a conducive atmosphere is created for the genuine exchange of goods and ensure development within our country, sub-region, continent and the world which we live in.
"Without movement, there can be no development. And movement means migration. But then today, migration has a very nasty connotation particularly when you watch the television and you air hear the story of thousands of our youths daring to go through the desert. Then after they have done such hazardous journey, some of them are being sold as slaves. Slaves in the 21st century, Africans were sold by Africans and maybe to Africans. Making human beings as instrument merchants as property to be sold and commodity; humanizing and un-dignifying what God has created to be dignified and uplifted.
"As if that is not bad enough, these people go further and many of them find the Mediterranean Sea, as a common grave. This means they terminate their lives. Why do they do this? It is because they believe they could get greener pasture elsewhere. What they believe they lack in their own country maybe gotten outside their own country.
"So what does this means? It means that all of us as leaders must feel a sense of regret and have a sober reflection on what we have done or what we have not done to bring this about to our own people."
Obasanjo, however, charged men of the NIS to imbibe a culture of training, professionalism, integrity, honesty, loyalty, and service in the discharge of their constitutional duty.
In his opening address, the Comptroller – General of NIS, Muhammad Babandede said that the service is committed to safe and regular migration in order to prevent the sad stories of loss of lives and resources of Nigerian citizens and foreigners.
Governor Ibikunle Amosun of Ogun State, who declared the conference open, also condemned the resurrection of the slave trade in Libya, saying that African leaders should rise to condemn the act.
The post Obasanjo condemns slavery resurgence in Libya appeared first on Vanguard News.