By Donu Kogbara
OK, so here we go again…waiting for a tired old year to draw to a close and for a brand new year to dawn.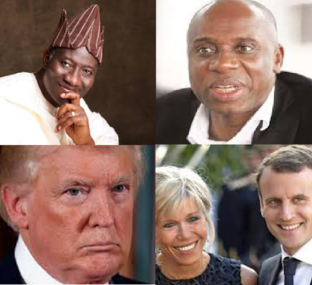 This slow, quiet late December period is always a perfect time to solemnly reflect on the past and express one's hopes and fears for the future.
Obviously, one of my most fervent hopes for the future is that Nigeria will stop being a security nightmare. And it will be a pleasant surprise if President Buhari comes up with a robust crime prevention/detection strategy that works in 2018.
Another hope for the future that I'm passionately harbouring is that Port Harcourt Airport stops being a complete disgrace in 2018.
One of my many reasons for campaigning and voting for Buhari in 2015 was my anger about the fact that our very own Niger Deltan President – Goodluck Jonathan – had allowed the main airport in our region to deteriorate to the point where it has been rated by CNN as the worst airport in the world.
When Rotimi Amaechi, who was the Rivers State Governor at the time, decamped from Jonathan's party, the PDP, to Buhari's party, the APC, Jonathan's failure to provide his kith and kin with a befitting airport was one of the reasons Amaechi gave when asked to explain his abandonment of Jonathan.
But guess what?
Amaechi is now the Minister of Transport and in charge of aviation matters; and the airport is still disgusting! It looks awful, functions like a primeval coach station and smells like a sewer. I landed there the other day and nearly threw up because of the rancid stench that drifted over from the makeshift toilets and assailed my nostrils. I literally had to run out of the crude tent that is the "arrivals terminal" to gulp some fresh air and prevent myself from vomiting.
This situation proves that it is easier to criticize than to do better than those we criticize. Amaechi should apologise to Jonathan, on this front at least…and ensure that he delivers the clean, modern airport passengers deserve in 2018!
I went out this morning, in London, to buy a newspaper and wound up chatting to the Indian gentleman who owns the shop. We both agreed that while no year in human history has ever been uneventful, 2017 has been particularly dramatic.
Who'd have guessed that Donald Trump, having shocked political pundits by winning the American election, would flatly refuse to be presidential?
I and many other onlookers thought that the job would tame and mature him. And we were wrong. He has wasted so much time on rubbish like squabbles about how many people attended his inauguration ceremony.
He has made several unwise comments and decisions – Jerusalem! Climate Change! Charlottesville! Etc! – and antagonized the media, the intelligence community and lots of other groups. I'll be amazed if he isn't impeached in 2018.
Who'd have thought that Emmanuel Macron, a 39-year-old non-politician, would become France's leader….and have at his side as his wife his former teacher, aged 64?…who first decided that he was romantically viable when he was 15?
Na wa for sophisticated French liberalism. All I can say is that Madame Macron is lucky that Emmanuel is not my son!!! If a teacher cornered my boy when he was a teenage pupil, I'd have issued extremely stern warnings to the teacher and then taken her to court for corrupting a minor if she didn't listen to me!
Anyway, life would be boring if such fascinating scenarios didn't occur. So let me sign off now and congratulate the people of Zimbabwe for getting rid of Robert Mugabe and the grasping wife (Dis)Grace who ruined his reputation as a freedom fighter (why are so many big men such supine woman wrappas?!).
Farewell to Philemon
Last night, I got a very sad and scary phone call from my home state, Rivers. I was kidnapped when I was living in Port Harcourt in 2015, and held hostage by nine heavily armed men in a hut in a remote mangrove swamp for 13 days.
I was so traumatised by the experience that I fled to the UK to lick my wounds as soon as I was released and vowed never to return to that neck of the woods.
I was coaxed out of my self-imposed exile by friends who kindly promised to arrange police protection if I came home. So, last year, I cautiously started to visit Port Harcourt and Yenagoa (which I also regard as home) at intervals.
One of the police officers who dutifully shadowed me and kept a watchful eye on me was a young man called Philemon; and I became exceedingly fond of him because he had an excellent sense of humour and was reassuring, amiable, humble, honest and smart. I felt so safe and relaxed when I was with him.
Yesterday, highway robbers shot and killed Philemon – who was attached to the Niger Delta Development Commission most of the time – while he was in a vehicle en route to another city. And I'm absolutely devastated.
May my dear Philemon rest in peace and may God help his family get over this terrible loss and punish the evil bloody murderers who stole his precious life.
I'm told that Nigerian police officers are now routinely targeted by homicidal maniacs for two reasons: Firstly, because their weapons are immensely valuable to violent criminals; and secondly because the criminals wrongly assume that anyone who is being guarded by a policeman must be important and wealthy.
In other words, instead of regarding a police presence as a deterrent, criminals now regard a police presence as an incentive. And I could have been with poor Philemon when he was attacked – and could have been killed alongside him.
In other words, one is vulnerable if one doesn't have police protection and vulnerable if one has police protection. What a country!
Meanwhile, I'm back to square one: Totally terrified of going home.
Let me also wish Vanguard readers a happy 2018.
Responses to: donzol2002@yahoo.co.uk  or to 0802 747 6458 OR 0811 675 9752 (texts only). PLEASE KINDLY NOTE THAT UNLESS YOU REQUEST ANONYMITY, YOUR COMMENTS MAY BE PUBLISHED, WITH YOUR NAMES AND CONTACT DETAILS ATTACHED.
The post Old year/new year – thoughts appeared first on Vanguard News.