By Japhet Alakam
Poetry is one area that many people do not understand very well because it embraces the accessible as well as the inaccessible. But which ever way people see it, the mere fact that a poem is unclear does not disqualify it from being a poem as long as it possess all the poetic devices like rhythm, profundity, imagery etc. This is what many will see as they go through the refreshingly rich collection of poems by Isodi Dike titled Omnibus and other Poems.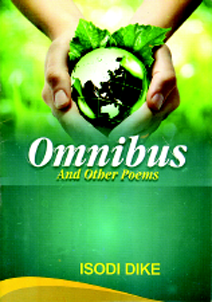 Isodi Dike, a one time award winning journalist and presently a magistrate who has to his credit a short story and novel Okadigbo, The Kingdom  in his determined bid to contribute to the reading culture in the country came out with his latest addition titled Omnibus and other Poems, a poetry collection that thematically span a wide spectrum of his thoughts and experiences about life.
In the 77 page book published by De-Masters in Digital Print, Asaba in 2017, Isodi puts to great account his diverse experiences in the judiciary, journalism and public relations. It is a collection of 48 poems of varying verses divided into 11 parts that embodies a wide range of topics ranging from thought provoking, inspirational to humourous topics that will elicit every reader no matter his/her age
The first part with only one poem which is the main title of the book tagged Omnibus is a prosaic poem detailing the challenges faced by Omnibus as he grew up a young man physically challenged; how he mastered his situation when he realized he had only one life to live.
The book also has a collection of poems inspired by real issues that reflects deep on several segments of our society where we think we are already home and dry, in our paradise so to speak, only to discover to our chagrin that life is not all it seems. For example the poem, Peace of mind, here the author has a message for Nigerians in this troubled times. In part six, the author takes a look at the scourge of malaria and its casualties in the poem titled Malaria fever which he dedicated to his daughter Chidinma and mother Rita Dike.
He also remembers late Eli Obasi in the poem, Ticker Tapes, Prof Kofi Awooner, the poet that died in the Nairobi terror attack in There goes the burden sorrower, while our own late Mcphilips Nwachukwu, former Arts Editor of Vanguard Newspapers was also remembered in the poem, Fate of the burden bearer.
Other poems in the collection include, Grass cutter, This and That, The Dreamer, Accidents, For the love of Chizara, Burn your flame, Our day, The prophecy, Villify Corruption, Phases of life and many others.
The collection therefore attempts to make meanings from happenings around us. It is thought provoking and in the end refreshes and brings clarity to our understanding of the environment.
Written in very simple language, the author in the collection masterfully selected the poems from a wide range of his personal thoughts , experiences in life and other raw imagery from the mind. The book which has already been approved by the Delta State government for use in their schools is good. I therefore recommend it to all.
The post Omnibus… Isodi's poetic reflection on issues of life appeared first on Vanguard News.