By Muoka Lazarus
Beloved, we should appreciate God for preserving us for His work till date. For we know, if it is not the fervency of the prayers of the saints, may be the situation of the country would have been worst.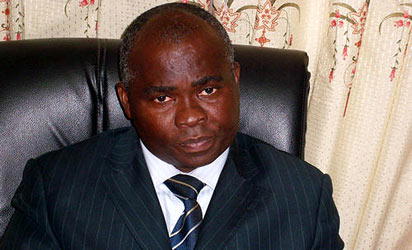 So, let us use the opportunity offer-ed by the seasonal holidays to offer fervent prayers of appreciat-ion to our Creator for all He has done this year and commit the approaching year into His hand. Let us through prayer remind God that we are besieged from all front of life and thus need His inter-vention for our freedom, for only Him can save us from social, political and economic woes.
As the year draws to the end, we are using the seasonal holidays  offered as another opportunity to draw your attention to the inevitable last agenda in God's dairy, that is the second coming of our Lord Jesus Christ.
On our own we are ending the year with a lineup of power-packed programmes which will start with a special thanksgiving service to mark our 15th anniversary which comes up today.
After which we will have our end of the year programme tomorrow and Tuesday entitled, 'Only God can do this'.
It is indeed only God that could have seen us through from the snares of the enemies, the bickering and the blackmailing that the people of the world hounded at us this year. It is only God that will help us assumed victory over our enemies.
Beloved, beside that, our young ministry is 15 years today. It has been 15 years of revival evangelism and 15 years in pursuit of the threefold vision of grassroots revival all over the world, revival of the Apostolic Christian experiences among the body of Christ and revival of heavenly consciousness in the heart of believers. Above all it has been 15 years of serious quest to meet the 10 billion souls' mandate.
I wish to express my sincere gratitude to all the members of The Lord's Chosen, and those that are sympathetic to our vision and those that are yet to embrace the product of the vision. My prayer is that we shall all make heaven at last in Jesus name.
God has been very faithful to us. He has never left us nor forsaken us. We feel His presence every time and in every area of our lives. And with His grace richly in our midst the vision assuredly will be actualized.
Although the journey to actualize the vision and mandate has been rough but, we shall never rest on our oars until every ground is covered.
This is because we are called out from among the world to draw the attention of the world to the implication of sin. And this we have been doing in all the places we have gone and we will not hold our peace until the vision and mandate is accomplished and sinners repented. We must go to any length to tell sinners the fatal consequences of their sin in order to make them repent. If sinners will not do their duty in repenting, we will do ours in reproving, because for this course we are called.
We are to inform all men about Christ, the history of His life and death, and His resurrection. We are to tell as many as we can that sin is now an aberration, and old fashioned.
We are to tell the children of men that they are all in a state of misery and danger, condemned by the prince of this world, conquered and enslaved by their enemies, that if they could believe the gospel, and give up themselves to be Christ's disciples; if they will renounce the devil, the world, and the flesh, and be devoted to Christ as their Saviour they shall be saved from the guilt and power of sin. And evil shall no longer rule them nor ruin them.
We have taken this message to the market places, inside the buses and to our neighbours and have made a loud noise, blown our trumpets and same time deployed hundreds of buses and cars to the communities and neighborhoods' to accomplish this goal. We are aware that there must be active exertions for the result to be produced.
We know it will not be done sitting in the comfort of our homes. Hence, we have taken the gospel to their doorsteps; and putting it on their ways; making sure they do not escape it; by blowing the trumpet right against their ears. We are appealing to everybody to embrace the revival going on. We know we can do nothing of oursel-ves, but we can do everything by the help of our God.
We have embarked on this journey with all our strength, soul, spirit and body. The same speed by which we started when we were called and chosen for this work 15 years ago (2002), the same momentum and impetus have not reduced till date. We are very conscious that this world has expired and will soon come to an end paving way for a new world order under the direct supervision of Jesus Christ and the saints. We have noticed increase in violent crime, prostitution, the doctrine of gay practice, high volume of social, political and economic corruption, and increase in persecution of the Church, and etc.
All these are pointing to the fact that we are closer to the end of the end.
But God has helped us to turn many that are dead in sin to life, bringing them from sin to righteousness and from darkness to light. We implore Nigerians to return to God in order to have peace. This is because no peace can be achieved without God. God has no pleasure in the crises of any nation. He waits with much long-suffering for their repentance, that He may pardon them, and receive them into His bosom of infinite love and peace. Let's use this time to reflect on the reason why Christ came into this world.
Jesus came with a message of peace and reconciliation, let us apply the import of this message in whatever we are doing, let there be ceasefire among us so that there will be reunion. Let the whole nation take advantage of this period to ensure peace and reconciliation among themselves. We believers and particularly the ministers of God should use this occasion to pray for our country and commit it into the hand of God, so that our children and yet to be born generation will find it a place to be.
The unity we are enjoying in this country since independence is not as a result of the intelligence of our leaders but because of God's providence. All human enterprises could only succeed by the divine blessing, for no prosperity can be expected in a country without the finger of God in every of its undertaking. If the means, the models and designs are laid in oppression, corruption and injustice, God certainly cannot build there. We should know that if God is not acknowledged in what we are doing, we have no reason to expect His blessing and peace, and without His blessing all is nothing. God bless you.
The post Only God can do this – Muoka Lazarus appeared first on Vanguard News.