The Eiffel Tower was illuminated in blue and green to greet the One Planet Summit in Paris, France, last Tuesday as the world's political leaders and representatives of key international organizations met to discuss global climate change. When the G20 met in last June in Hamburg, Germany, French President, Emmanuel Macron offered to host the summit on climate change on December 12, 2017.
The one-day summit which adopted the Paris Agreement was organized jointly by France, the United Nations and the World Bank, in partnership with the United Nations Framework Convention on Climate Change, UNFCCC.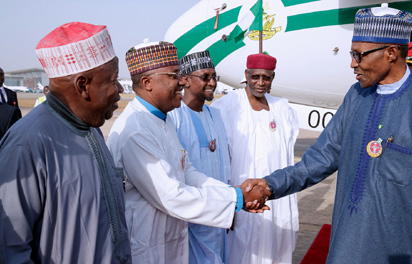 They planned mobilising public and private finance to support and accelerate common efforts to fight climate change. And to do this fossil fuels (coal, oil and gas) were given a death knell instanter.  It was an ecological emergency and all must fall in whether we contribute to carbon emission or not. Are there sustainable investment and development plans for fossil fuels dependent nations like Nigeria?  Might is right in the world of the powers that be, but that did not extend to President Donald Trump who apparently became a villain by pulling out of the 2015 Paris Agreement. Trump's concern was his "America First Energy Policy."
Trump's policy is that drilling benefits outweigh environmental worries but advocacy groups believe it is a disaster in the waiting. Trump recognised the untapped domestic energy reserves that would bring jobs and prosperity to millions of Americans. The domestic oil and gas industry employs about 10 million Americans. He is to explore the estimated US$50 trillion in untapped shale, oil and natural gas reserves on federal lands to dominate oil production and maintain American superpower status. He is to use revenues from energy production to rebuild roads, schools, bridges and public infrastructure as well as investment in agriculture.
In the December 12, 2015 Agreement 196 parties to the UNFCCC reached the Paris Agreement to cut greenhouse gas emissions and set a global target of keeping the average temperature rise no higher than 2 degrees Celsius. Developed countries commitment was to contribute US$100 billion annually from 2020 to mitigate climate change impacts in developing countries.  On the sidelines of the Paris Climate Conference in December 2015, France and India planned the International Solar Alliance, ISA.
The goal of the cooperation was to facilitate large-scale deployment of solar energy in 121 countries in the area between the tropics by aggregating the demand for funding, technology and innovation, as revealed by the President of the World Bank Jim Yong Kim in a conference call with reporters ahead of the summit.
Trump as a businessman in politics might have seen the flaws in the Paris Agreement and heard the story of the alliance between France and India not to support Macron in the Paris One Planet Summit.  Only 50 world leaders out of 196 in 2015 attended what was called  France's marketing strategy.  The UK was not left out as Prime Minister Theresa May preached the moral imperative for developed economies such as the UK to help those around the world that stand to lose most from the consequences of man-made climate change.
Much as expert opinion favours the climate change mantra, many believe it is also bait for many Organisation for Economic Cooperation and Development, OECD countries to market their new found technologies in renewable energies to render liquid fossil fuel useless. OPEC members' (including Nigeria) survivals are being threatened.
And the multilateral agencies like World Bank are waiting in the wings to finance products of these technologies to be sold to developing countries that are are yet to find their rhythm in utilizing their fossil fuels and consolidate national development goals.  The World Bank at the One Planet Summit announced that it is pulling out of funding exploration and production of fossil fuels.
Of course matters arising are that poverty and the attendant problems would increase. The World Bank's first goal is to establish ambitious but achievable goals to galvanise international and national efforts to end extreme poverty globally within a generation and to promote ''shared prosperity" a sustainable increase in the wellbeing of the poorer segments of the society. The second goal reflects the fact that all countries aspire to a better living standard for all of their citizens, not only for the already-privileged.
Again, who are the biggest carbon emitters? The Union of Concerned Scientists data show that the first ten emitters in decreasing order are China, United States, India, Russia, Japan, Germany, South Korea, Iran, Canada, Saudi Arabia. Some scientists view is that the developed countries and major emerging economies lead in total carbon dioxide emissions and should not warrant underdeveloped economies involvement in equitable solutions.
A solution to this problem would bridge the yawning development gap between the developed and developing nations otherwise; a greater danger lies ahead for the economically secure nations. Oil producing nations should now invest in Research and Development, R & D.
The post Politics, technology marketing, in One Planet Summit appeared first on Vanguard News.