By Evelyn Usman
The Lagos State Police Command yesterday, opened up on what it termed the true position on the death of a 37 -year-old suspected cultist , Akeem Abudu , who was arrested last year in Imota , Ikorodu area of Lagos , describing allegation that the deceased was tortured to death inside its cell as false.
Rather it stated that the deceased was arrested with gun shot wounds he sustained during a clash with rival cult group.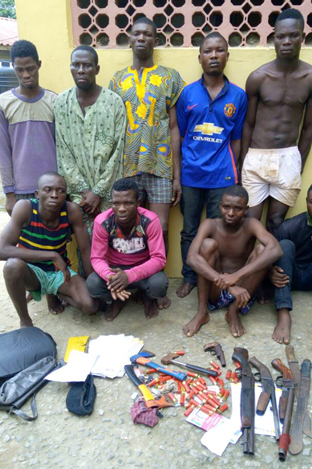 It would be recalled that the deceased, a father of four , was arrested alongside nine other suspected cultists during a raid carried out by operatives of the Special Anti-Robbery Squad, SARS attached to the command and those from the Anti Crime and Anti Cultism patrols of Imota division .
Their arrest according to the command, followed a rival cult supremacy clashes which resulted in the killing of two members of the Eiye confraternity: a cab driver identified as Saheed and his colleague identified simply as coach, on July 23, 2017 . The later was hacked to close to the Imota police division.
However, one year later, family of the deceased said that it was yet to receive the corpse of its son , alleging also that he was tortured to death inside the cell. It also stated that its son's arrest could not have been unconnected with a land dispute .
But in a swift reaction, spokesman for the Lagos State Police Command, Chike Oti , a Superintendent of Police, SP said, following the killings of members of the rival cult group, communities around Imota were gripped with trepidation , as the environment was no longer safe.
In what he termed ' the fact of the case' Oti said : " Security operations in these areas were heightened to restore law, order and general safety of the area. To achieve this objective, SARS operatives from Lagos State Police Command Headquarters, Ikeja were deployed to the area as reinforcement to Imota Divisional Police headquarter Anti Crime/ Anti Cultism patrols.
Community vigilante groups also assisted the regular police efforts in containing  the deadly operations of these dare-devil and blood thirsty cult groups.
Intelligence report available at that time revealed the identities of 10 members of the notorious Aiye cult group  responsible for the deaths of Saheed and Coach of the rival Eiye cult group. They were subsequently arrested by the SARS assisted Anti crime / Anti cultism patrols of  Imota police station. "
He gave identities of those arrested as: Daramola Isreal ( 24) Oluwatobishe Akinyo ( 27) Balogun Kamorudeen '(28) Akin Sholanke (24) and Friday Oda ( 24). Others were : Arogege Bolaji ( 28), Akeem Amune (26), Ige Muritala (43), Suleman Nojeem( 20) Akeem Abudu (deceased, 34 ).
A locally made shot-gun according to him , was recovered from late Akeem Abudu, who was alleged to be leader of the Aiye cult group. " Other exhibits recovered from the group were : two cut to size locally made double barrel guns, one cut to size locally made single barrel gun, one locally made single barrel pistol, three axes, three cutlasses, 50 live cartridges
and assorted charms." Oti said.
He informed that during interrogation , the suspects confessed to being members of Aiye cult group but denied involvement in the murder of Saheed and Coach  of the rival Eiye cult group.
Abudu's death
Explaining how Abudu died, Oti said: " On 20th August, 2016, at  about 1430 hours, the late Akeem Abudu who had earlier sustained bruises and wounds during  rival cult clashes, slumped at about 1430 hours (2.30pm) and was immediately taken to General hospital, Ikorodu, from where he was referred to the Lagos State University Teaching Hospital, LASUTH Ikeja. He was certified dead at about 2345 hours (11.45pm) of same date.
Autopsy examination conducted on the corpse revealed that the deceased died of Acute Cardiac Failure/Hypertensive Heart Disease. The remains of the late Akeem Abudu was deposited at the TOS LASUTH Ikeja morgue. However, till this day the family has failed to claim of the corpse of Akeem  Abudu for burial."
Oti stated that other suspects had been charged to court , adding that the deceased was standing trial over a related matter before his arrest .
Other suspects arraigned
"Investigation of the other members of the Aiye cult group arrested alongside the late Akeem Abudu, continued and they were later arraigned at the Lagos State Magistrate court, Ikeja Magisterial District on charge no CR/MISC/A/13/2016
COP vs Daromola Isreal and 8 Others in a five count charge of the offences of belonging to unlawful society, unlawful possession of firearms and unlawful possession of criminal charms.
The Case file was subsequently forwarded to the office of the Lagos State Director of Public Prosecutions (DPP) in a letter reference number CB: 3514/LSX/SARS/VOL.18/67 dated 4th November, 2016. Thereafter, legal advice was given in a letter with reference number LJP/RT/2016/322/23 dated 3rd March 2017 directing that the defendants be prosecuted for the aforementioned offences.", Oti said.
He noted also that before his arrest on the August 18, 2016, late Abudu was standing trial at Lagos State Magistrate Court, Igbosere Magisterial District for same cult related offences.
He therefore clarified that the arrest on the deceased was not connected with any land matter .
He said : "In view of the above facts and circumstances that led to the arrest, investigation and death of Akeem Eleja  Abudu, it is easy to see that the reason why the police authority in Lagos beamed its search light on the deceased and his cohorts ctivities wasn't because of land matters or any civil issue as claimed by members of his family but rival cult clashes between Aiye confraternity led by the deceased and the Eiye confraternity. It is also not true that the police killed Akeem Abudu and hid his body. The medical records are there for anybody's perusal and his body is there at TOS morgue in LASUTH. The death of Akeem Abudu just like that of any human being is  unfortunate and we sympathise with his family members. The police couldn't have killed Akeem Abudu and charged his gang members to court. It doesn't add up at all.
" The Commissioner of Police Lagos State, CP Edgal Imohimi since assuming office had led enlightenment tours to educate youths on the need to renounce cultism, shun drugs and pick up their books. He had said at different fora that the only possible outcome of gangsterism, drugs and brigandage is either death or injury. He warned the youths never to enlist with these underworld societies as it is not easy to get out of it without a dent."
The post Suspected cultist died of injury from rival group, not Police – Lagos PRO appeared first on Vanguard News.