By Abdulwahab Abdulah
Justice Raliat Adebiyi of an Ikeja High Court, yesterday, sentenced a truck conductor, Kabiru Lasisi to death by hanging for being responsible for the death of a labourer, Abdulrazak Haruna.
The judge said there was no merit in Lasisi's plea for mercy and sentenced him to death on a one-count charge of murder of Haruna sometimes in October 2013.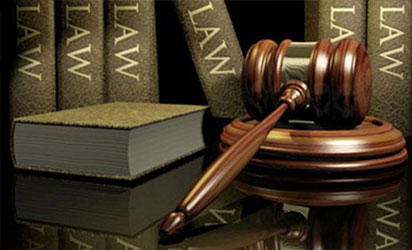 The convict was said to have stabbed the deceased, Haruna, fatally in the neck, thereby causing his death.
The state prosecutor, Mrs O.A. Olugasa, had told the court that Lasisi had accompanied his boss, one Kehinde Kuye, a bus driver to a company in Ajah to deliver cement to a customer, where the deceased had confronted the defendant for parking his bus in a manner that obstructed the labourers from freely offloading the cement.
She said a heated argument ensued between the duo during which Lasisi, in Yoruba language, threatened to kill the deceased.
While other labourers were trying to separate them, Lasisi, who was armed with a small knife, stabbed the deceased on the right side of the neck, leaving a deep cut from which blood gushed out.
The deceased was said to have died before getting to the hospital.
Lasisi tried to flee from the scene but was apprehended by an angry mob of labourers, who almost lynched him. He was saved by the Manager of the company, who tied him up in his office before the police arrived.
In his defence, Lasisi claimed that he did not stab the deceased but that he was injured by an iron rod at the back of the truck.
The prosecutor, Mrs. Olugasa, called four witnesses and tendered the weapon used in committing the crime, a small knife which was still caked in dried blood as evidence.
In his plea for mercy, Lasisi through his counsel, Mrs. Y. A. Ajayi, from the Office of the Public Defender, pleaded with the court to temper justice with mercy.
The post Truck conductor sentenced to death for killing labourer appeared first on Vanguard News.