By Henry Umoru
ABUJA—THE Senate said yesterday that the N45 billion earmarked for the Presidential Committee on the North East Initiative, PCNI, in the 2017 fiscal year was a far cry from what the body needed to carry out its mandate effectively.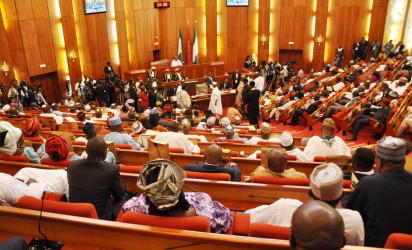 According to the Senate, N45 billion for six states in the North East amounted to about N7 billion per state.
It insisted that the PCNI must continue to be up and doing to lift the devastated zone out of humanitarian crisis, adding that it was obvious that N7 billion would not bring any meaningful turn around to a local government in Adamawa State.
Meanwhile, the    PCNI Vice Chairman, Alhaji Tijjani Musa Timsah, has cried out over paucity of fund to actualise the mandate of the interventionist body.
Speaking to journalists yesterday in Abuja, Chairman, Senate Committee on Special Duties, Senator Abdulaziz Murtala Nyako, said that though members of his committee were at home with the PCNI framework of activities, the interventionist body should be encouraged to continue to be on its toes.
Senator Nyako, who spoke after an oversight duty at PCNI Abuja office, noted that the enormous assignment of pulling the insurgency devastated North East zone out of crippling humanitarian crisis made it imperative for the body to continue to be up and doing.
He said:  "We have seen what PCNI is doing. We are happy with the framework of PCNI. They really need support to do better. We feel that with the right kind of support, particularly funding, they will achieve their purpose.
"We have come to put them on their toes because they really have to be on their toes to do the needful and lift the area out of humanitarian crisis. My candid opinion is that what they are getting is too small for any meaningful impact to be made.
"In 2017, they got N45 billion for six states which gives approximately N7 billion per state. One or two local governments in Adamawa can swallow N7 billion. We appreciate the constraints on the side of the Federal Government. It is our job to put more pressure so that more money will be made available to rehabilitate the North East and lift the area out devastation."
Vice Chairman of the PCNI, Alhaji Tijjani Musa Timsah, listed paucity of funds as the greatest challenge PCNI was facing, adding that Nigerians should appreciate the fact that what the North East zone was passing through has a way of affecting the entire country.
Timsah said:   "We have been able to chart a course and created a document which is a strategic framework for all intervention programmes we are doing. But paucity of fund is the greatest challenge the PCNI is facing."
The post Why Presidential Initiative on N/East must be on its toes—Senate appeared first on Vanguard News.