By Luminous Jannamike
ABUJA – In a bid to motivate and appreciate Nigerians who have demonstrated remarkable sense of productivity, excellence and good governance, Good Dreams Multimedia Concepts – a Non-Governmental Organization – will on December 15th honour Governors Udom Emmanuel, Nyesom Wike, and Seriake Dickson of Akwa Ibom, Rivers and Bayelsa state respectively at the 2017 edition of the prestigious South-South Leadership Advancement Awards (SSLAA) scheduled to hold at Emerald Events Centre in Uyo.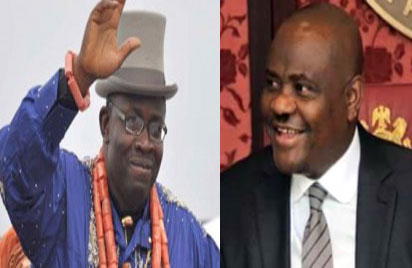 Other awardees on the list include the Governor of Central bank of Nigeria (CBN) Godwin Emefiele; Coordinator of the Presidential Amnesty Programme, Brig-Gen Paul Boroh; Senator Godswill Akpabio, traditional rulers, as well as industrialists, artistes and philanthropists from the South-South region.
This project which is aimed at reiterating the relevance good leadership in the society will feature a summit where peace, reconciliation and youth empowerment in the region will be discussed.
Kinsley Amafibe, Project Director of SSLAA, said the awardees would be honoured because of their contributions to peace building initiatives as well as economic and infrastructural development of the region.
He said that since the initiative was non-political, service to humanity in whatever capacity was the benchmark that earned the recipients nomination space.
Amafibe noted that although there were more people contributing to peaceful coexistence and development in the South-South, there was need to honour the outstanding ones in edition of the award.
He said: "These Nigerians from the South-South region have, in one way or the other, contributed to its development and peaceful coexistence.
"We believe that this recognition will always be the push for them to achieve more in their service to society.
"Service to humanity and making society a better place for everyone is the essence of leadership.
"Anyone who has notably used his office or profession to serve and touch society positively, is a leader that needs to be recognized.
"The Niger-Delta is very significant to our economic survival as a nation, and we must do everything collectively to sustain peace in the region."
The awards cuts across different categories, with recipients picked from various fields and backgrounds.
The categories include South-South Governor of the Year, Award for Peacekeeping in the South-South, South-South Comedian and Entertainment Entrepreneur of the Year.
Others include South-South Traditional Ruler of the Year, South-South Construction Company of the Year and South–South Community Personality of the Year.
The post Wike, Boroh, Emefiele, others to bag South-South Leadership Award appeared first on Vanguard News.