By Rotimi Ojomoyela
Ado-Ekiti—  FOUNDER of Afe Babalola University, Ado Ekiti, Aare Afe Babalola, and prominent traditional rulers in Ondo and Ekiti states have urged the Aare Ona Kankafo designate of Yoruba land, Dr Gani Adams to use his new office to further strengthen the unity and promote the culture  and tradition of Yorubaland.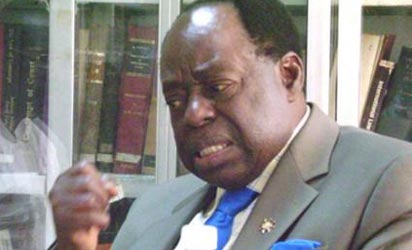 Babalola, who received him at his university office yesterday urged the new generalissimo to pursue the unity of the Yoruba race and make it greater than he met it.
He said: "Everybody know that you have been nominated by Aalafin as the next Ona Kakanfo. He has come personally to give me my invitation to attend his installation. I am 100 percent in support of the appointment of Gani Adams by the Alaafin of Oyo.
"If you followed the history of this young man, he has been very dynamic, highly focused person and I think this is parts of the characteristics that made Alaafin to appoint him."
"My advice to him is that he is holding a sensitive position in Yorubaland. The position held by great people, who made Yoruba a nation. He will continue to do what others before him did, think of making the race greater and to defend its cause."
In his remarks after touring the medical facilities at the new Afe Babalola University Teaching Hospital, Adams said that instead of going abroad, the ABUATH should be the new medical tourism destination for Nigerians.
He noted that the facilities in the teaching hospital could be compared with the ones he saw in United Kingdom and Germany.
Adams said that when the hospital is fully operational it would ease problems of health challenges in the South-West and Nigeria in general.
On his agenda for the Yoruba nation, Adams said though he would not divulge it now but added that he has pleaded with Chief Afe Babalola not to relent in his pursuit of the Yoruba unity.
"I came to seek elderly wisdom from Chief Afe Babalola, who is considered to be one of the most influential people in Africa.  Not only as legal luminary but as somebody who has done a lot to unify the Yoruba nation.
"I am here for his advice. He has taught me a lot about the history of Yoruba race. For you to be put in an influential position and you don't know the history of Yoruba, you will not be resourceful. He has taught me even post installation agenda because it is one thing to be installed as Aare Ona Kakanfo and it is another thing to perform in that position.
Also, the monarchs, who received Gani Adams and his entourage at their various palaces during the weekend offered special prayers for the success and long life for the new Aare Kakanfo and progress in Yorubaland
The post AARE ONA KAKANFO: Afe Babalola, monarchs task Gani Adams on Yoruba unity appeared first on Vanguard News.