—Urges FG to protect Nigerians from herdsmen
By Johnbosco Agbakwuru
ABUJA – A Catholic cleric, Rev. Fr. Kwaggas Matthew, Sunday in Abuja said that Nigerians especially the Christians will soon start raining curses on the nation's leaders who have abandoned their primary responsibility of protecting the lives of the citizens.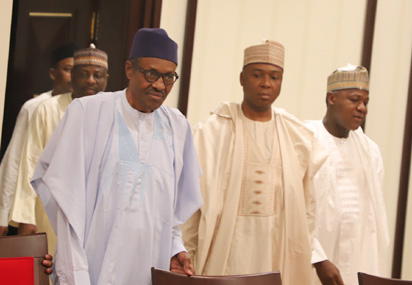 The Borno State born cleric and Parish Priest of Church of the Annunciation Parish, Kubwa, Abuja, in his homily at the Feast of Epiphany noted with dismay the killings and destruction of property by the Fulani herdsmen while the government that swore to protect the lives and property of Nigerians remained silent.
He wondered how the herdsmen who allegedly are killing people got the sophisticated guns they always used in their dastardly act and charged Nigerians to start protecting themselves if the government failed to protect them.
Recollecting the number of lives lost in Agatu, Guma and Logo of Benue State, Kaduna, Plateau, Adamawa, Enugu, Taraba, Borno and other parts of the country as a result of herdsmen onslaught on the people, he said, "We will soon start raining curses on the leaders who are not helping us.
"How did the herdsmen killing people get the guns? Rubbish happened in Nigeria in 2017, a tribe was told to leave a certain part of the country. It appears that the devil took over the country.
"We should be speaking out to keep Nigeria one. I am not telling you to kill anybody but If government can't protect the citizens, we should protect ourselves. President Muhammadu Buhari should save us, we are crying. Government should not deprive us of lives."
He noted that infrastructure in the country had collapsed but added, "God will raise leaders in no distant time for Nigeria."
The Catholic Priest advised the government to consider everyone as equal, every state as equal in providing security and amenities, adding, "We don't want to be losing lives again, God will soon raise the leaders that will change things for us. "
The post Benue Massacre: We 'll soon start raining curses on leaders – Cleric appeared first on Vanguard News.