Says, "it's sad that APC members have nothing to show for Buhari's victory
By Ishola Balogun
There is speculation that your party, APC will soon suspend you for daring to declare for the presidency or challenging President Buhari, how true is it?
I'm not aware of that. I think that is just a rumour. I don't think it is true I have not done or committed any offense that would warrant my suspension. If it is because of my presidential ambition, then, there is no going back. I'm convinced that Mr President will demonstrate statesmanship not only as a ruler but a world leader to serve one term and hand over to me. I appeal to him to follow the steps of Dr. Nelson Mandela (Madiba). If I'm elected in 2019, I shall serve only one term of four years. APC is a party built on the fundamental principles of democracy. Since the emergence of APC at the centre, democracy has taken its course in this country. For instance, the elections conducted so far using that of Anambra State as a case study, shows the democratic principle of APC. In the same vein, I do not see our party acting on the contrary on my decision to contest the presidential election. As a chieftain of the party, I am eligible to contest.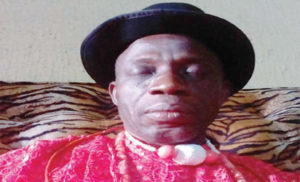 What informed your decision to declare for the 2019 presidential election?
I have taken the decision to contest after painstaking appraisal of our party agenda anchored on change. I have resolved to contest so as to add value to the change agenda. Yes, the President has tried in the area of war against corruption, economic recovery and the security challenges, however, more needed to be done and that is why I have come out to contest. The president has not told Nigerians especially his party members that he will contest 2019 election, only those around him are clamouring that he should contest. Even at that, he has not made up his mind. I can assure you that Baba Buhari will not contest and I am seeking his blessing. He should anoint me to continue where he will stop. I will constitute all Federal Boards and Agencies not leaving it to the mercy of PDP members. You see it is appalling that APC members who worked consciously for the Party's victory have nothing to show for it. It is sad.
Will you still contest against him if he decides to contest?
Definitely I will. This is because some of us outside the boxing ring are seeing those in the ring. Yes, he has tried; I'd like to add more quality to it. What I think we should do is to throw away sentiment, he is from a certain area. There should be a level playing ground. However, he is like a father to me he should hand over to me and I will not fail him. It's time for him to rest. He has made his mark as a world leader.
But the position has been zoned to the North because the South South just relinquished power in 2015, why do you think your party will give you a chance?
There is no zoning in our party, All Progressive Congress (APC), the presidential ticket is open, not limited to an individual or zone or ethnic grouping. I have offered myself as one of the best candidates in Nigeria come 2019. As a legal practitioner, with vast experience, I will nurture the political economy of the nation to an enviable position that will be the envy of international community. I will re-organise the Oil and gas, Aviation, Transport, Education sectors to enhance growth to the economy.
Insha Allah, within three months of my inauguration, I will hit the ground running by constituting all the Federal Government agencies including Boards to boost the activities of government. I will re-design the security network to nip the activities of Boko Haram in the bud as well as kidnapping. The activities of militia youths across the country especially in the Niger Delta will be checked also. I will also re-visit the privatisation of the power sector with a view to permanently solve the power problem within months. These are my main agenda. Again, to me, APC believes in credibility on which President Buhari rode to office. It is the same credibility I'll showcase. The prevailing atmosphere of unity in the country will be sustained and the restructuring agitation will be looked into.
Have you consulted people on your ambition and is it true some influential Nigerians are behind you?
I have informed the party hierarchy that early in January, I shall embark on national consultation to seek Nigerians' blessing. Youths of this country are asking me to contest so as to make the difference. Remember, I was the National Vice President of the National Youth Council of Nigeria and made an impact on the lives of our youths. The youths of this country are therefore solidly behind me. Like I said earlier, I shall add value to the change agenda of our great party. The morale of party members across the country is low. My challenge therefore, is to boost it through appointments and rejigging the economy.
The post Why I will contest 2019 presidential election — Unagha appeared first on Vanguard News.